Whole Planet Foundation has just awarded Ms. Tran Thanh Thanh Thuy (technical officer of TYM Soc Son branch, Hanoi) the award Field Officer Appreciation Award in Asia-Pacific region 2022.
Early knowing and loving microfinance activities through her mother's job, more than 15 years later, Thuy began to realize her dream from her young age. For her, TYM activities and volunteering activities complemented each other because both have the same target beneficiaries, which are disadvantaged women who want to rise up.
11 years old and the dream of volunteering
In 1994, when Thuy was 11 years old, Thuy's mother, Mrs. Nguyen Thi Kim Duc, became a staff of TYM at Soc Son 1 branch, Hanoi.
With the characteristics of microfinance that both provide microfinance products and support borrowers (also known as members) to improve their capacity, many training activities were implemented by her mother at home, a convenient place for women in the same village. Thuy listened to her mother's lecture for members. The most impressive one for Thuy was about "the wheel of life", which was the part where female members evaluated and discovered themselves in various aspects. Many touching stories, many concerns have crept into Thuy's mind day by day.
Then, on the evenings when Thuy's mother went down to the centers to organize collective programs and cultural exchanges, Thuy asked her mother to come along so that she could both attend the fun and accompany her on the late night way back home.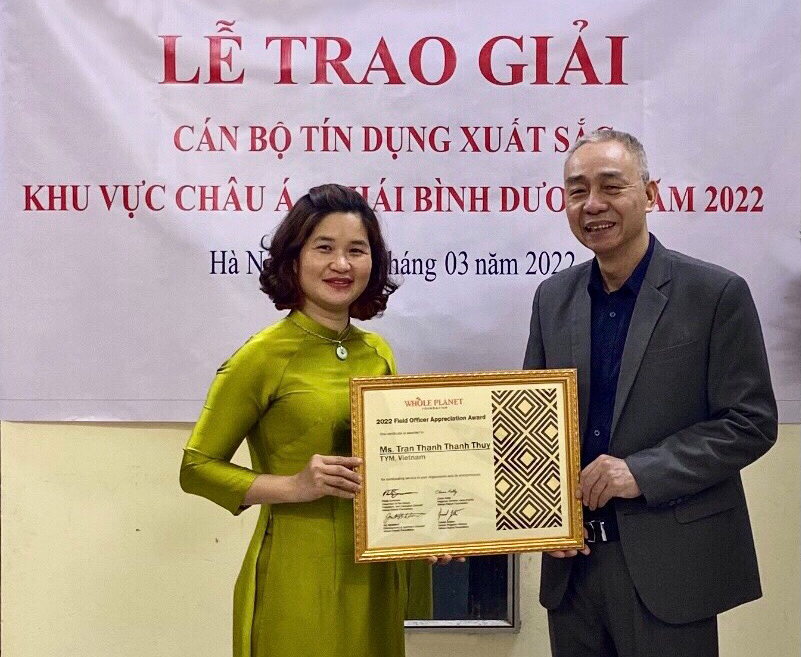 During the nights of cultural activities, simple rural women had a good time; their eyes sparkled happy moments, believing in the upcoming road of life, Thuy did not understand much, but she had fun with them.
TYM's activities have been naturally absorbed into Thuy since her childhood days.In the eyes of the little girl, her mother has worked hard, but has always been happy thanks to the trust and love of female members. From that day on, Thuy secretly wished to grow up to do the same job as her mother.
After finishing university in economics, Thuy went to work at a financial institution in Hanoi, but somewhere deep in her heart, Thuy still dreamed of continuing the path her beloved mother went.
4 years after Thuy graduated from college, TYM had a staff recruitment exam, Thuy participated and was accepted. Working at the Soc Son branch, Thuy had the feeling of returning to her old home, with her dream since childhood.
Accompanying TYM members to overcome difficulties
15 years working with TYM is also 15 years Thuy has accompanied women on the way to rise out of poverty, gradually getting rich and asserting themselves. On that journey, Thuy has witnessed many successful start-up stories from very difficult circumstances. Inheriting a lot of valuable experience from her own mother who was the first generation of staff, with love for the job, responsibility and passion for helping women in need, Thuy brought each "step" to help her female members "go up". She always thinks "when you are not rich enough in money to give, you can share by giving your effort, wisdom, and time to help others".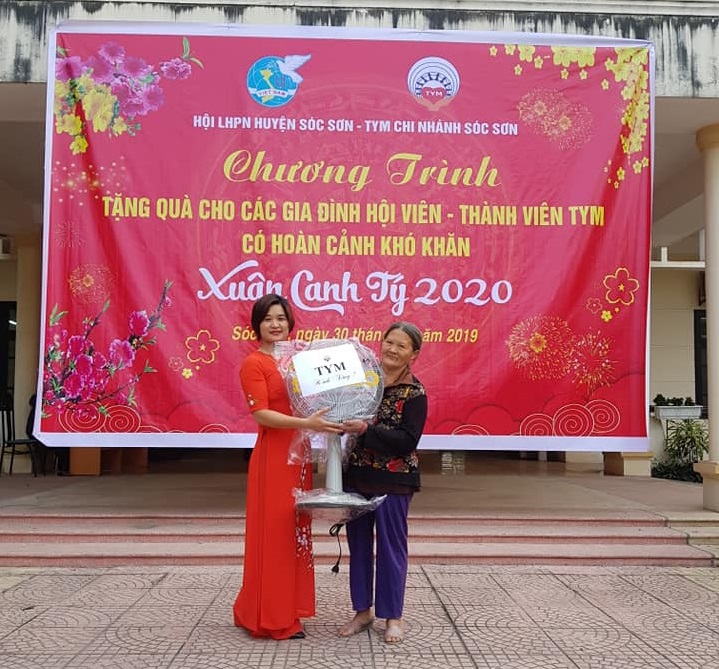 Ms. Nhung (Bac Phu commune, Soc Son district) is a member of TYM in Thuy's area. Nhung's family's economic conditions are extremely difficult. No home, Nhung has to stay with relatives. The two children were still young; the father was sick all year round because he is a victim of Agent Orange. Her husband's salary as a mechanic worker and sewing clothes was only enough to cover living expenses for her family. With the desire to change her life, Ms. Nhung came to TYM to avail a loan to buy a sewing machine to repair clothes and receive industrial tailoring at home. Realizing the member's ability to develop, Ms. Thuy encouraged and gradually supported Ms. Nhung to overcome psychological barriers, to boldly borrow higher support packages to invest in more machines, develop into a workshop. With Thuy's encouragement, Ms. Nhung confidently borrowed more loans TYM to buy 6 more industrial sewing machines. But at the time when the machine had just been purchased, Nhung's elementary school daughter suddenly fell into a coma due to brain disease.
Nhung and her husband had to take out a loan for brain surgery for their daughter. Thuy persistently encouraged Ms. Nhung to develop the garment factory. From recruiting workers, training, guiding, to checking quality, managing the progress of goods, Thuy consulted Ms. Nhung step by step. Gradually, the garment factory developed, and Ms. Nhung became a confident and dynamic business owner. From starting a business with only a few female workers, she has now created jobs and stable income for dozens of workers. She is a typical member who has used TYM's loans effectively and successfully overcome difficulties. With an effective economic model, in 2012, Ms. Nhung was awarded the "Typical Micro-Entrepreneur Citi – Vietnam 2012".
Just like that, with energy and enthusiasm, a sense of responsibility and dedication at work, Thuy brings all her professional knowledge, social understanding and sharing heart to support more than 5,000 members during the past 15 years.
Extend your arms to support the community
Stemming from sympathy and deep understanding of difficult lives, Thuy always strives to provide more support to members and the community. Therefore, outside of working hours at TYM, she became the Chairman of the Red Cross Volunteer Club of Soc Son district (the club). Working at TYM and voluntary social work, for Ms. Thuy, are two complementary activities because the same target is difficult families and women who want to rise out of poverty.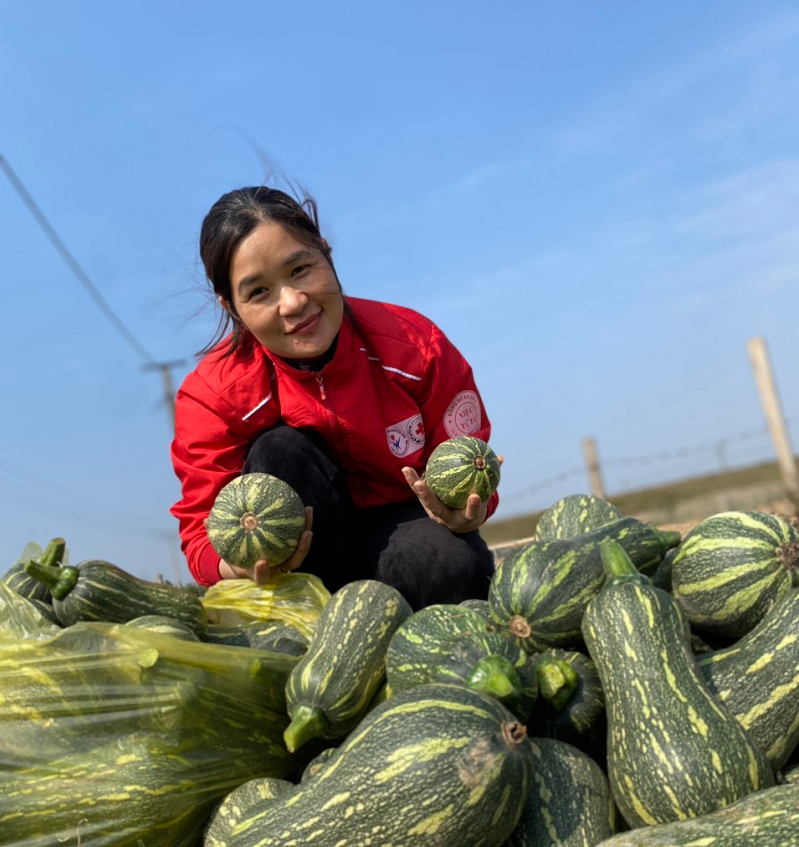 Mrs. Tran Thanh Thanh Thuy has received many awards: "Field Officer Appreciation Award" by Whole Planet Foundation, "Good people with good work" in Soc Son district in 2021; Certificate of Merit from the Central Committee of the Vietnam Red Cross Association for Thuy's work in VWU and the Red Cross movement in 2021, "Person of the Year 2021" awarded by TYM, Representative representing Red Cross officers and volunteers of Soc Son district to attend the11th Congress of the Vietnam Red Cross Association for term 2022-2027 at the end of August 2022.
In the past 2 years, with the complicated development of the Covid-19 epidemic, people's lives have encountered many difficulties. Looking at the yards of agricultural products of TYM members that have reached the harvest period but have not been consumed, Ms. Thuy felt sorry. Faced with that fact, Ms. Thuy and some colleagues immediately contacted TYM members in many provinces and cities to connect and support the consumption of agricultural products. Early in the morning, Ms. Thuy and the club volunteers started selling, using smartphones to take photos, record clips and livestream the members' agricultural products. When people place an order, Thuy and her members organize the delivery, collect the money and give it back to the farmers. Thanks to that practical and timely support, in 2021, Ms. Thuy supported the consumption of nearly 200 tons of agricultural products, earning nearly VND 400 million for TYM members and farmers in the provinces.
With the spirit of "mutual love", Thuy not only connects and lights the fire of warm humanity, but also spreads the fire of love and responsibility to everyone. To attract many companions, Ms. Thuy launched the "Kindness Fund", opened the "Kindness Booth" to call for volunteers to participate in online sales activities to raise funds. Up to now, the Kindness Fund has supported more than 70 difficult cases in the district, including difficult members of TYM, with an amount of over VND 100 million.
At the beginning of 2022, impressed by what this woman has done, the Whole Planet Foundation presented Thuy with the award "Outstanding Credit Officer in the Asia-Pacific region 2022".
Source: phunuvietnam.vn