Member : Hoàng Thị Thành
Age: 48
Living: Yen Lac - Vinh Phuc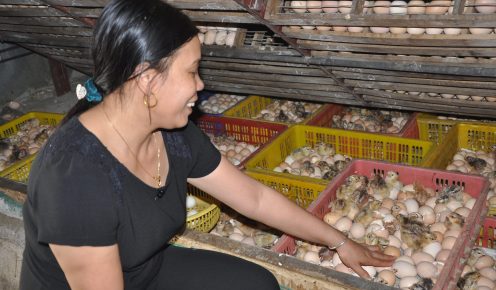 Life changing loans
Most women who take out microcredits have never borrowed money before or received any formal training; unbeknown to many it is the first step of a chain of events that will change their lives. When Mrs Hoàng Thị Thành took out her first ever loan in 2001, she had no idea that it would lead to her receiving her first ever prize as a winner of the  Citi-Vietnam Micro Entrepreneur Award ten years later.  Read her incredible story here.
Mrs Hoàng Thị Thành's home is bustling with activity when we arrive to interview her, so much so that it takes a few minutes to work out her main business activity, as we enter  her property we pass pig pens, a small truck, industrial sized bags of animal feed, dogs, large machines, and chickens. Indeed Thanh is a woman of many hats, she is a  mother of four, a chicken breeder, Centre Chief, a wife, and a prize winning entrepreneur.
Thanh decided to join TYM after being visited by a Technical Officer in 2001. At that time, she was petty trading at the market, and selling chickens she raised. It seemed like a good opportunity to get ahead.
During her first years at TYM she participated in study tours to learn about business models and was also trained as a Centre Chief. Today, Thanh is both a  Centre Chief at TYM and the  Deputy Head at the Vietnam Women's 's Union Village level
In 2006 she set  about transforming her trading business into a poultry breeding one. Thanh says the biggest challenge at that time was cashflow:  "I always took out the highest loan possible to get the business up and running. To upsize my business I took out loans from TYM and commercial banks valued at VND 30.000.000 " .
As profits grew so too did her ambitions. She decided to upscale the business by learning how to incubate eggs, she tells us: "I worked very hard to learn this trade. I paid to do a two year apprenticeship in Hanoi.  I had to stay with my boss all week long. My husband would come at the weekends to see me, and pick up chickens to take back to our province to sell. That was a difficult time for our family".
After finishing her apprenticeship they decided it was time to take the plunge and invest heavily in their business. She explains: "In 2011 we invested a lot of money to buy the incubator. We had to wait one month for the eggs to hatch before we could sell the chickens. Even once they were sold we had to wait for the buyers to repay us – That was tricky because it meant the returns on our investment were slow to reach our pockets.  We felt a lot of financial pressure; We had good months where we made lots of profit and bad months where we lost money".
Her hard work was rewarded that same year when she was recognized by Citi Foundation with a Micro-entrepreneur Award, she tells us how elated she was to be selected: "I felt excited and very honored to receive the award – I'd never won an award before. They also gave me nine million VND, I put all the money back into my business".
Along with the financial benefits Thanh says her involvement with TYM has been rewarding at a personal level, she comments: "My community has expanded a lot since I joined TYM. I have a new network of friends and peers from the Centre. There is a lot of mutual support and understanding between fellow members. We help eachother out with business issues whenever we can. It's one of the major advantages of TYM; Whenever I talk to fellow women about the MFI and the benefits it offers I describe how supportive their staff and network are".
Now that their business has grown they have taken out a MSE loan. She also has two term savings accounts with TYM.
Today, business is booming at the Hoàng's, they have four incubators and produce 28.000 eggs a month. They sell the hatchlings wholesale and even deliver to other provinces. They employ two permanent workers to keep up with the demand. It's labour intensive but profitable, she tells us: "The chickens take 31 days to hatch and grow. Every two weeks we need to move them and make sure everything is smooth. We incubate 20.000 eggs and take out 16.000 chickens. We have around 40 pigs too".
Despite her success, Thanh strikes us a very modest women, when we ask her about her journey she is very matter of fact and says: "My husband came from a big family and they were very poor. We lived in a very small house and didn't have any access to credit to make the changes we wanted.  Before TYM is was impossible to borrow without having any collateral. We would never have been able to grow our business without these loans.The biggest challenge facing my fellow women today is the lack of credit. Our area is still very rural and that means poor women rely on farming work to get by".
Thanh has four children, her two daughters are married with their own children, and her two younger boys still live at home with her. Thanh always puts her family first. She explains: "My husband is the head of his clan which puts a great deal of responsibility on us to look after his family. I don't want my sons to continue in this line of work. I'd rather they were employees and had good jobs. If they stay in the chicken business I will worry about their health".
She feels positive about her own future but has ideas about helping fellow women in her community. She tells us: "In the future I think TYM should offer even bigger loans to business women. I think they should provide us with preferential interest rates and the best lending conditions possible to encourage women to be entrepreneurs".