Member : Trần Thị Huệ
Age: 63
Living: Cửa Lò, Nghệ An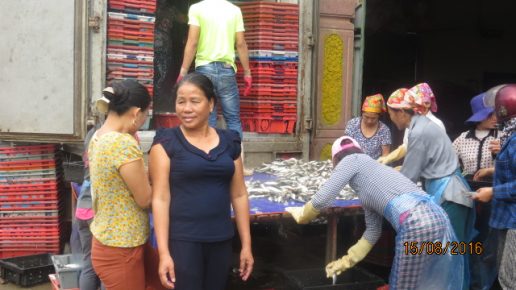 Mrs. Tran Thi Hue was born in 1960. Her family is living and working in Nghi Tan ward, Cua Lo town, Nghe An province. Mrs. Hue joined TYM as a loan member in center 36 of Nghi Loc branch, Nghe An province.
During our visit at Mrs. Hue's house and her family's frozen seafood processing business, her stories of upsand downs in her business over many years revealed her and her husband's great will and determinination to escape poverty. Yet, Mrs. Hue and her husband has made many admirable achievements.
Mrs. Hue and her husband got married and settled with empty hands, and the family used to be one of low-income households in the area. Due to hardships, the couple must strivethrough a lot of different jobs such as seafarers, labourers, small traders at the market, … After years of saving, in 2005, Mrs. Hue and her husband with her bother in law and his wife opened a small-scale seafood purchasing business to buy seafood in the area and provide seafood to markets in Vinh city and Ha Tinh town (Ha Tinh city now). However, due to lack of management skills and experiences, the business suffered from hardships, all accumulated capital from the 2 families were gone. Mrs. Hue and her husband were not discouraged by such loss, the couple again worked as labourers and small traders in the market to make savings and acquire capital. While the couple shipped goods to different localities, they realized that the demand for seafood was continuous and growing, but fish is harvested seasonally, and seafood processing and storage steps were mostly small scale and were executed manually. Thus, the supply of seafood did not meet market's demand. Seeing an opportunity, Mrs. Hue and her husband wanted to own a big scale business of purchasing and processing seafood.
After saving for several years, in 2010, the couple has accumulated experiences and capital and overcame their loss several years ago, the couple again opened a small scale business of purchasing and processing seafood with the support from their family and relatives. Yet, there were numerous difficulties such as shortage in capital, unstable and low quality input materials, lack of knowledge in running seafood processing machines, and challenges in signing long-term contracts with product buyers… In 2011, as Mrs. Hue learnt that TYM had extended its activities in the area, she joined TYM as a loan member to have more capital to purchase input materials. Her first loan was VND 10 million. Mrs. Hue and her husband's hard work and strong will made the couple overcome difficulties, and their business grew better gradually. By now, her family has owned 2 cold storage warehouses with an area of 500 m2, 1 store specialized in providing breeding stock and aquafeeds… Mrs. Hue's family business has created stable jobs for 15 regular workers and 40 seasonal workers that are TYM loan members in the center and other local people with an average income of VND 5 million/head/month. The net income as of Mrs. Hue's family business is about VND 300 million/year.
Mrs. Hue shared that at the start of her business, her loan from TYM was a leverage for her business to overcome all problems more easily. When difficulties were resolved, her frozen seafood processing and storage business operated stably, and since then the business has been growing and expanding. She shared with other women that in order to be successful, one needs to maintain a good reputation, persistence, skillfulness, and she must be able to come up with many solutions and choose the best one when encountering difficulties. Also, when doing business, one needs to take risks, be assertive, dare to invest and accept possible losses.
Mrs. Hue's business has also joined the network of seafood processing businesses in the area and a member of Vietnam Association of Seafood Exporters and Producers (VASEP) and a member of Nghe An Fishermen Association.
With Mrs. Hue's achievements, she was honored with the title of typical microfinance client in 2016 Citi – Vietnam Microentrepreneurship Awards (CMA). CMA program is co-held by Citi Foundation/Citi Bank Vietnam, The Advisory Centre for Microfinance Resources for Small and Medium Microfinance Enterprises (formerly Vietnam Microfinance Working group – VMWG), Vietnam Small and Medium Enterprises Association (VINASME) with the support of the State Bank of Vietnam.