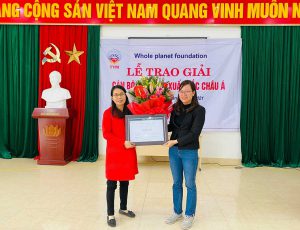 On February 5, 2020, Ms. Luong Thi Thuy, Credit Officer of TYM – Nam Truc Branch, Nam Dinh province was honored as 1 of 5 grand prize winners within the framework of the Whole Planet Foundation Field Officer Appreciation Award for the Asia-Pacific region in 2020.
Ms. Luong Thi Thuy was born and grown up in a poor agricultural family. In 2011, Thuy started working at TYM. During the past decade, despite of various difficulties and challenges, Thuy has always been a pioneer who is willing to work in new units in Nam Dinh province. Despite of her poor health condition from childhood, everyday such the small lady comes to and brings more beautiful and meaningful support to women members of TYM with smiles on lips. As for the award, she is recognized not only for her outstanding work performance but also her willingness and pioneering spirit to exploit new areas to serve more people in need. As for members, she is not only a credit officer, but also a special friend who is always caring, close and sharing spiritually as well as materially.
This is an annual award organized by the Whole Planet Foundation to honor outstanding credit officers in the Asia-Pacific region. Up to now, 7 TYM staff have been recognized in the framework of this program.