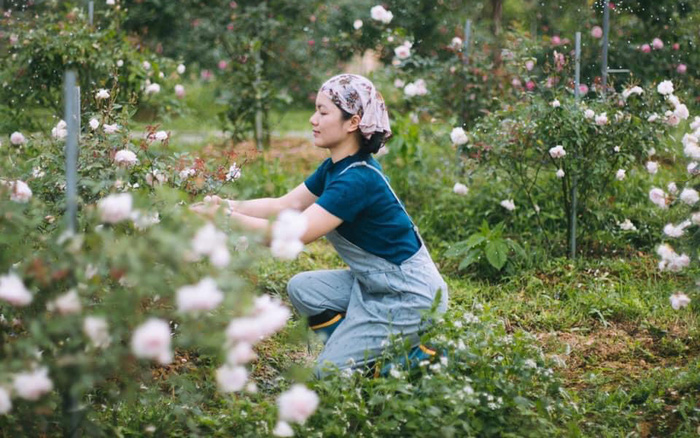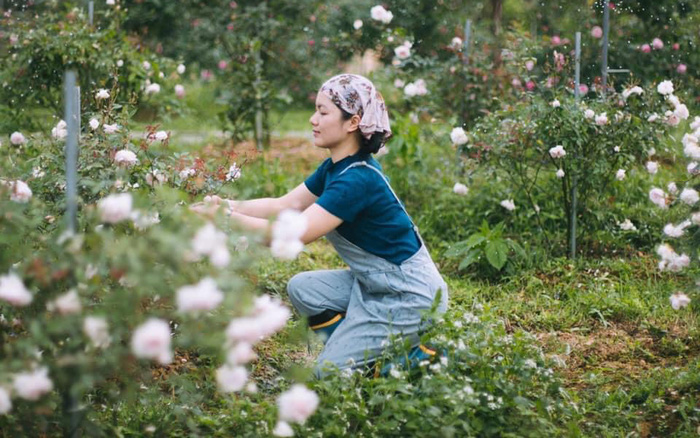 Having grown fond of roses from a young age, Ms. Pham Thi Hong Nga (born in 1978, Dong Quang Ward, Thai Nguyen City, Thai Nguyen Province), after many years working as a teacher, has become the owner of a rose farm.
From the capital of 2.2 million VND
In the early 2000s, Nga was a lecturer at a college in Thai Nguyen province. The meager salary she earned as a teacher at that time could only help her family to make end meets.
Being a flower lover, Nga took advantage of her spare time to open a small flower shop to earn extra income. At that time, the amount of capital that Nga saved and borrowed was only 2.2 million dong. With that meager start, she had to make a detailed calculation for her capital turnover while having no experience. Therefore, Nga's income was not stable. However, it somewhat helped her family economic status to improve and was also a premise for her to gradually nurture her dream of a rose farm in the future.
By 2010, when she truly realized the potential of the flower business market in Thai Nguyen, Nga decided to invest and professionalize her operations. From that point, each step she took for the development of the flower shop brought her closer to her "rose dream". That was when she heard of TYM's loans and since then, she has trusted TYM to accompany her in her path of economic development. She still remembers her first loan of 10 million VND from TYM, which she used to invest in expanding the store's operation to decoration services for conferences and events.
Nga does not remember exactly how many loan applications she has made at TYM so far. The amount ranges from 10 to 50 million VND (the maximum capital amount for 1 microfinance client). The more the capital Nga borrowed increase, the larger her flower shop was expanded. Finally, her flower shop became a prestigious supplier of flowers and flower services in Thai Nguyen city.
Establishment of Rose Cooperative
Once her business got big enough, it was time to fulfill her perennial dream of opening a rose farm. Today, Nga's the rose farm, called UniRose Farm, in Cay Thi hamlet, Thinh Duc commune, Thai Nguyen city, has a total area of nearly 10,000 square meters with more than 20,000 roses of all kinds. She does not confine her business operation to trading flowers and seeds, but aims further at other forms that bring sustainable values to the farm such as extracting rose water and developing ecotourism.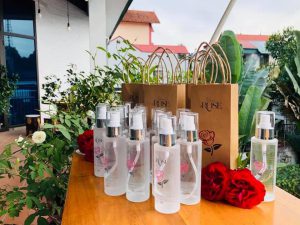 To make the products reputable and affirm their quality in the market, Nga set up a Rose Cooperative with 8 participants in March. Today their main product is rose water extracted from organic rose essential oil. "I hope my roses beautify not only life but also people. In the near future, our cooperative will launch more new products made from roses."
Nga has been a member of TYM for 10 years and gone through various loan circles. Nga realized that although the amount of capital there does not fully meet her current capital needs, it has become a convenient, long-term, and stable additional capital source that requires no collateral. Moreover, she does not feel pressure to repay the loan and its interest as they are divided into small portions to pay weekly or monthly. The most recent loan she borrowed from TYM was 50 million VND to buy machinery to increase the farm's productivity. Nga also hopes that TYM will soon develop more loan products as well as increase the amount of loans to make them more accessible sources of capital to manufacture and business facilities like hers.
Nga does not keep this life-changing experience to herself and her family, but she also creates jobs with stable income for many local workers. "Currently, there are about 3-5 part-time workers working in the farm, 6 people working at the shop. They receive stable incomes ranging from 3 to 10 million VND per month. Many of them are even trained for work and receive salaries ranging from 6 to 12 million per month ", Nga said.
In addition to economic development opportunities, Nga was also offered training on business models. She has a chance to exhibit products regularly within the series of activities held under the Women's Innovative Start-up project, in which she has her products introduced and connects with women in other localities.
Contribution to the community
Not only being the "owner" of a large flower shop in Thai Nguyen, the owner of a rose farm, currently, Nga is also proud to be a member of the Cooperative Union and the Thai Nguyen Provincial Women's Union. She also acted as the Chairwoman of the Thai Nguyen Thien Tam Club, working to support and provide donations for special circumstances.
Being a teacher earlier, Nga has a special love for children. She, in coordination with art centers or language centers, actively organizes many activities for children on her rose farm. She also makes Square Cake for children in 46 poor households in Thinh Duc commune – where her rose farm is located. Nga shared that she would want to support the community. She herself was helped by TYM, thus she wanted to spread the spirit of women to support each other for mutual development.
Ms. Le Thi Ngoc Hoa, Chairwoman of the Women's Union of Thai Nguyen city, said that Ms. Pham Thi Hong Nga's flower business is an outstanding women-owned economic model.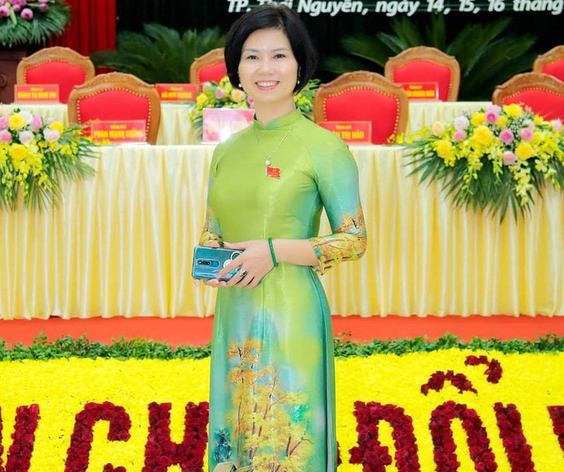 Ms. Hoa also said that TYM, which has been started its operation in Thai Nguyen city since 2010, has supported women access free collateral capital through fast and convenient procedures. Loan is also paid in installments by week or month. Provided with the stable capital source, women focuses on working to develop their economy, increase their income, and improve their material and spiritual life.
Find more stories of TYM members here