On January 13, 2022, TYM held a conference to review activities in 2021 and deploy tasks in 2022. The conference was attended and directed by the Vice President of the Vietnam Women's Union cum Chairwoman of Board of members of TYM Do Thi Thu Thao.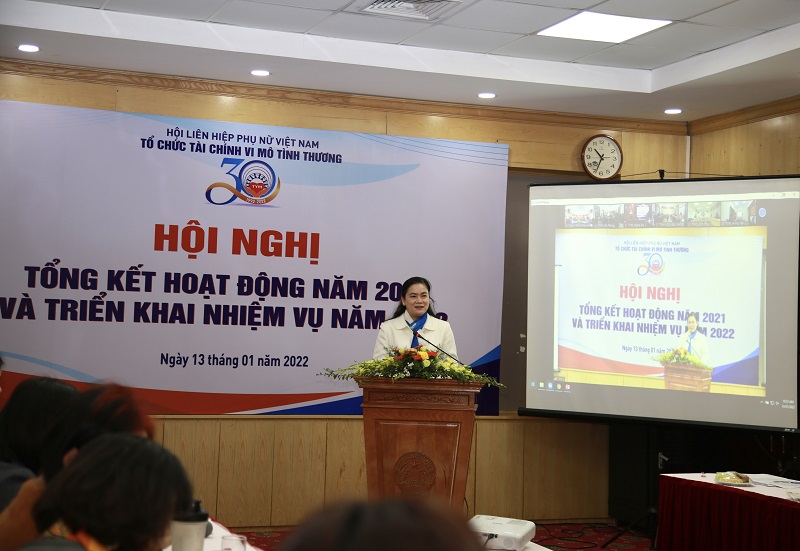 The conference also had the participation of representatives of Women's Unions of provinces and cities which have activities of TYM, Board of members, Board of General Directors of TYM, Supervisory Board, representatives of the Micro-Insurance Fund and representatives of 21 branches of TYM. This year's review meeting was held in person in Hanoi and online with 12 bridge points in provinces and cities where TYM operates.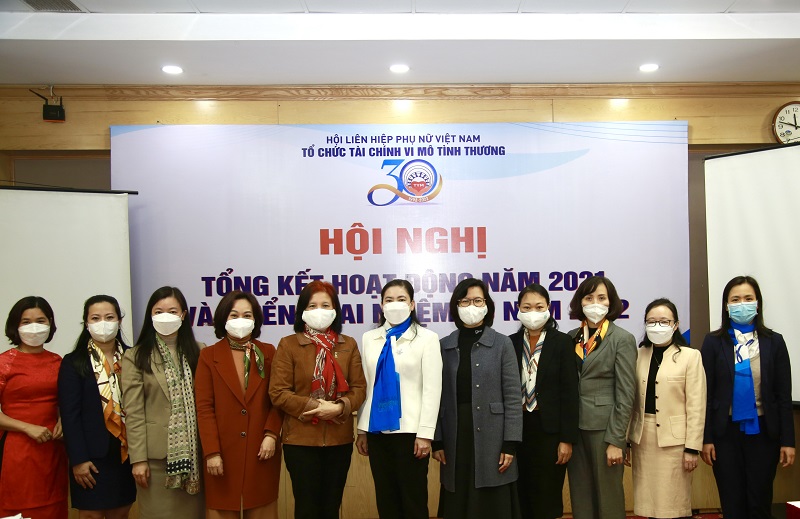 At the conference, Deputy General Director Tran Thi Tuyet Nhung on behalf of TYM presented the report on performance in 2021 and direction of tasks in 2022. 2021 is a year with many important events for the country and the Vietnam Women's Union. This is also the year the Covid-19 epidemic caused great impacts on all aspects of the economy and society, especially on production and business activities of businesses and people. Facing that context, in 2021, TYM has had many important policies to adapt to the situation and better support customers and the community.
With flexible management solutions, TYM has achieved important results, specifically disbursing VND 3,990.9 billion with total outstanding loans of more than VND 2,122.7 billion and deposit savings reaching VND 1,742.3 billion. . In particular, besides the annual community activities, TYM also focuses on carrying out many other activities such as: supporting localities with TYM's activities in epidemic prevention and control, supporting women in starting a business, performing many works to celebrate the Congress of Women's Deputies at all levels, accompanying border women.
The conference also heard many opinions from the participants, especially the Women's Unions of the provinces and cities, focusing on two contents: solutions to ensure the expansion plan and proposals to change and improve TYM's products and services.
Speaking to direct the Conference, Comrade Do Thi Thu Thao – Vice President of Vietnam Women's Union, Chairwoman of TYM's Board of members acknowledged the efforts and achievements that TYM has achieved during this time, especially in the context of complicated epidemic developments. With TYM's activities in 2022, she set out key tasks for TYM, specifically: Building the organization's development strategy with a vision of 2025 – 2030, focusing on digital technology application; Continuing to operate flexibly and creatively; Focusing on expanding, developing members, thereby attracting more women to join the Vietnam Women's Union; Focusing on staff development; Preparing well for the activities to celebrate the 30th anniversary of TYM tradition. At the same time, she wished to continue to receive the close cooperation and companionship of the Vietnam Women's Union at all levels in 13 provinces/cities so that TYM's activities can be implemented effectively and have many practical activities to take good care of women.
With the results achieved in 2021, TYM looks forward to 2022 with more innovation and success, marking the 30-year journey of the beloved and proud TYM.