Recently, in addition to supporting women's economic development, Tinh Thuong One member Limited liability Microfinance institution (TYM) has had many activities contributing to enhancing the position of women, especially in the context of Vietnam's current international integration, contributing to the implementation of the Resolution Supporting Women in International Integration until 2030 of Vietnam Women's Union.
Promoting women's participation in the digital economy
Ms. Phan Thi Hoai Mai (born 1985, residing in Nam Dinh province) is a customer who has joined TYM since 2018. Ms. Mai's legs are paralyzed so she has difficulty walking. That's why finding a job for her is not easy. TYM helped her access appropriate and stable additional loan for her nail shop, thereby developing herself and her family's economy.
Sharing with us, Ms. Mai said that at first, she was hesitant because she was afraid that the loan would be small but it would take time to travel and do the paperwork and the procedures would be complicated. However, contrary to her initial thoughts, TYM's loan procedures were not only quick and simple, but she also accessed policy loans with preferential interest rates, deposited savings and many other activities adding other values to customers.
"Joining TYM, besides availing loans, I also deposit savings every week. I really like this method because of the gradual repayment and savings. Recently, when TYM implemented a mobile application (TYM mobile app) and linked with the bank, I no longer needed to go to the center to repay her loans and deposit cash every week. Instead, I just need to stay at home and make transactions with just a few taps on the phone," Ms. Mai shared.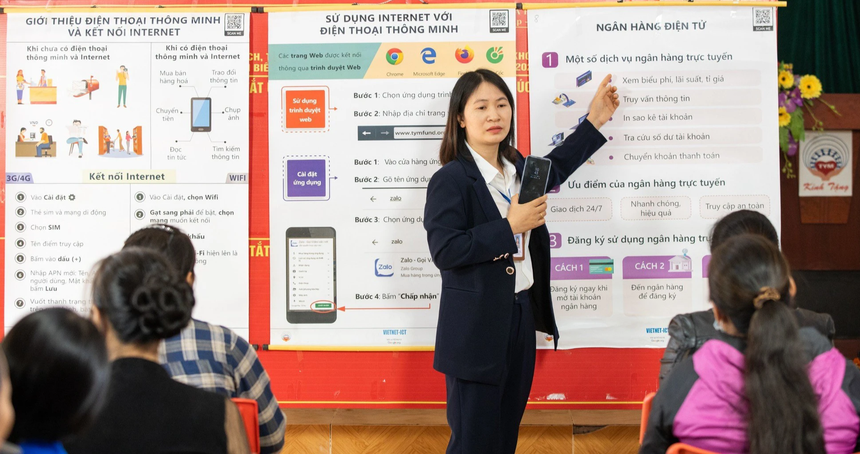 Since 2022, TYM has implemented TYM mobile app to increase customer experience, helping customers manage their finances and perform some steps in transactions with TYM more easily and conveniently. In addition, TYM also piloted cooperation with commercial banks to support customers with non-cash transactions. This activity brings more convenience, speed and safety to customers, and helps women, especially women in rural and remote areas, gradually get used to using technology and ready to adapt in the digital age and international integration.
In addition, aware of the necessity and importance of digital skills training for women, especially female-owned business households and disadvantaged groups, in recent years TYM has focused on equipping women with digital skills, providing customers with the necessary technology knowledge and skills to overcome barriers and promote full, successful participation in the digital economy. Since 2019, more than 81,000 women who are TYM customers and their husbands and children have been trained and improved their capacity in technology such as how to use smartphones, the internet and basic applications, online sales, safe in cyberspace.
Skills training helps women integrate internationally
TYM also creates conditions for women to access knowledge and techniques related to production and business professions through thematic activities and visits to typical economic models. The training and sharing content is diverse, from specialized classes on cultivation techniques, animal husbandry, production, and environmental protection to visits and learning sessions from working models. These activities not only meet the needs of women but also contribute to promoting business links between customers to improve awareness and business capacity, competitiveness, and readiness for integration.
Ms. Do Thi Ninh (Head of Transaction Office 03 TYM – Nghi Loc Branch, Nghe An) said that Cua Lo is a coastal area so people mostly live thanks to tourism. In addition to loan support, transaction office 03 also focuses on supporting customers to improve their skills to serve production and business activities. Most recently, transaction office 03 organized a seminar on cultural behavior in tourism business with the participation of more than 400 women who are TYM customers.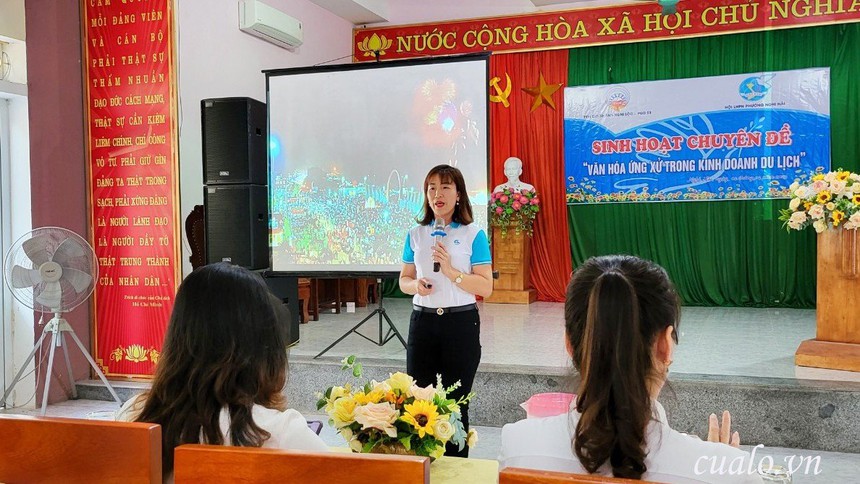 "We realize that behavior and communication are a core issue in tourism business development.
TYM's female loan members mainly do business and trade at the market, so sometimes they do not have the appropriate behavior of service workers, especially when there are tourists. We want through this thematic activity, women will better understand how their behavior has an overall impact on the town's tourism industry and a direct impact on the production and business of member households." Ms. Ninh said.
Also according to Ms. Ninh, attending the thematic event, members will hear the lecturer analyze how normal communication in life is different from how to communicate with tourists. After that, members will hear sharing about how to retain tourists such as not soliciting customers, not selling street vendors, forcing prices, and dealing with customers in a warm and gentle manner.
"The thematic event received the attention of many members. Responding after the event, all members said they had gained very valuable and practical knowledge to apply in the business and trading process," Ms. Ninh added.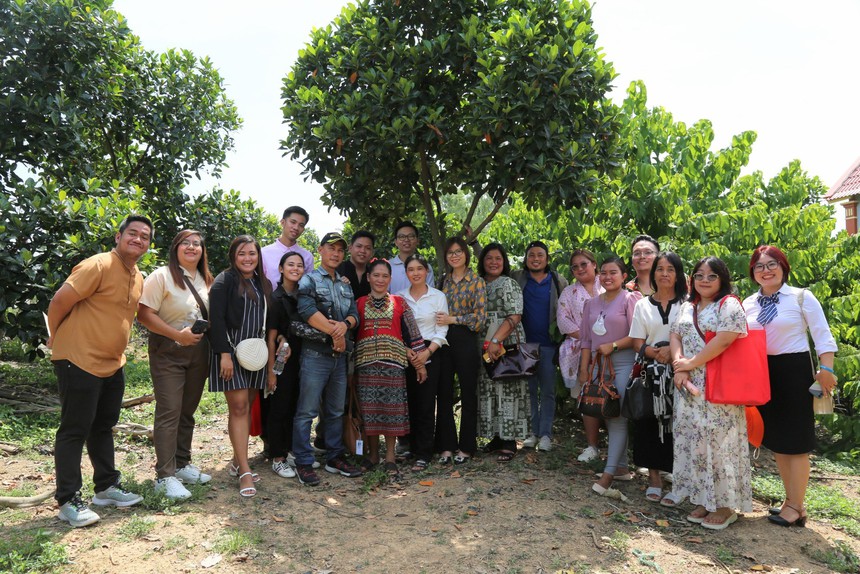 Ms. Dao Thanh Trang, Deputy General Director of TYM shared that over the years, TYM has always focused on activities to support women who are TYM customers to integrate internationally. In 2022, TYM will issue an action plan to implement the Resolution Supporting women in international integration until 2030 of the Central Executive Committee of Vietnam Women's Union, focusing on a number of activities. Specifically, these include: improving awareness and capacity on international integration, promoting international cooperation, strengthening customer support activities for international integration, and strengthening foreign communication work. TYM focuses on supporting customers in economic integration through providing convenient and appropriate financial services; improve women's capacity in production, business and technology; enhance communication, proactively introduce and share typical customer stories with international partners and friends; Supporting customer connection and product introduction through fairs, conferences and seminars of the Vietnam Women's Union and TYM. In addition, TYM also coordinates with the Women's Union at all levels to organize many cultural activities, thereby contributing to promoting the role of women in preserving national cultural identity, contributing to the development of tourism, promoting traditional cultural beauty, meeting the requirements of international integration.
Nguồn: Phunuvietnam.vn