Fast, simple, convenient, accurate, secure… are the experiences and added values that customers receive through using TYM Mobile. This is the first mobile application developed by TYM and is considered an important step in the roadmap to apply digital technology to the organization's operations, actively contributing to the implementation of the National Comprehensive Financial Strategy.
Launch of mobile app for microfinance customers
Established in 1992 by the Central Committee of the Vietnam Women's Union, Tinh Thuong Microfinance Institution (TYM, formerly known as Affectionate Fund) works to improve the quality of life of low-income individuals and households, especially giving priority to poor and disadvantaged women through the provision of financial and non-financial services. 100% of TYM's borrowers are women. In the strong digital transformation trend of the finance-banking industry, to be able to support and accompany women in the application of digital technology, TYM determines the need to constantly innovate, create and develop based on digital technology. on understanding the wants and needs of women.
Proof of this is the fact that TYM self-researched and launched the first mobile application, creating a breakthrough to help TYM increase customer experience and value, and at the same time take an important step for microfinance customers to enter the digital era. In order to support users, mostly low-income women in rural areas, to easily choose and use services, TYM Mobile is designed in a minimalist direction with a scientific arrangement of utilities. In particular, the application has a high level of security, whereby customer information is guaranteed to be safe. With TYM Mobile, customers can manage financial information and register for many services through the application conveniently and quickly, saving time and effort. On that basis, customers can look up full information anytime, anywhere to quickly decide on the use of TYM's services as well as effective financial management. In addition, the TYM Mobile application is also integrated with a functional group for officers to access customers' information under their management, loan information, savings, receive and process customer requests fully and quickly.
Real user experience
TYM – Nam Truc branch, Nam Dinh has been a pilot unit of TYM Mobile application since the early days of application launch. After more than 5 months of pilot, the branch has nearly 1,000 members so far.
Ms. Pham Thi Huong (32 years old, Nam Dong commune, Nam Truc district – a loan customer of TYM – Nam Truc branch) said that she was guided by TYM staff to install and use the TYM Mobile application on her smartphone from August 2022. After using it for a while, Ms. Huong said that the TYM Mobile application has met most of her needs.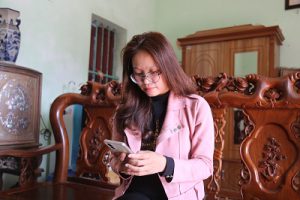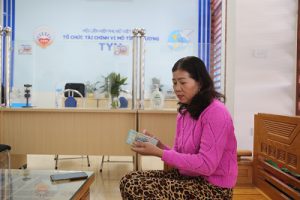 "In the past, when there was no application, if you wanted to check the loan/savings ratio, you had to call TYM's staff to ask, but now I just open TYM Mobile and check. It is very convenient and saving a lot of time. Moreover, the application has very good security," Huong said.
Ms. Huong said that she borrowed VND 50 million from TYM to start an online sales business. Each month she gradually paid more than VND 4 million including principal and interest. Since the day TYM Mobile was available, she regularly opened it to calculate the loan amount, as well as calculate the repayment time. That helps her to prepare for repayment timely.
Ms. Vu Thi Xuan (55 years old), another loan customer of TYM – Nam Truc branch, said that around the end of August 2022, she was guided by TYM staff to install and use the TYM Mobile application. After a period of study and experience, she found the application very useful. The information customers want to check are available in the application.
"Monthly, yearly interest rate, loan amount, savings, just open the app and you have it all, no need to call to ask anyone. Moreover, how to use the application is very easy, very simple," said Ms. Xuan.
Ms. Nguyen Thi Cuc, branch director, said that as of November 30, 2022, the branch has 6,602 members participating in borrowing and saving. The number of members is so large, but the total number of staff at the branch is only 19 people. To answer questions as well as answer questions from customers, the staff at the branch always have to work with high intensity.
Ms. Luong Thi Thuy (TYM technician – Nam Truc branch) said that since the day TYM Mobile application was launched, her workload has been significantly reduced thanks to less phone calls from customers asking for information.
Ms. Nguyen Thi Cuc, Branch Manager shared "In the coming time, we will continue to promote propaganda and encourage customers to install TYM Mobile application to make it more convenient for customers and staff. Since the day we put the application into use, we have received a lot of positive feedback from customers."
With the TYM Mobile application, TYM hopes that the use will help women, especially women in rural, remote and isolated areas and those who have few opportunities to access technology will gradually get used to exploiting and using information on mobile applications, contributing to making their lives more convenient and meeting the development needs of society in the digital age. For the organization, this is an important premise for the implementation of other modern and professional applications of TYM in the future, gradually realizing the action plan to implement the National Financial Inclusion Strategy to 2030: "100% of TYM customers access financial services through applications on smart devices". In the context of society constantly developing and changing, in order to go further with women in life, TYM will continue to make continuous efforts to innovate and create for the sustainable and comprehensive development of Vietnamese women.
After 1 month of officially deploying TYM Mobile on all TYM branches, by the end of November 30, 2022, TYM had 3,366 customers installed the application, of which 3,160 customer accounts had successfully activated and are using the application. In the coming time, TYM will continue to send staff to directly support customers to install and use TYM Mobile, and at the same time listen to user feedback to further improve the application.
Source: Phụ nữ Việt Nam