Member: Nguyễn Thị Phúc
Age: 77
Living: Ninh Giang - Hai Duong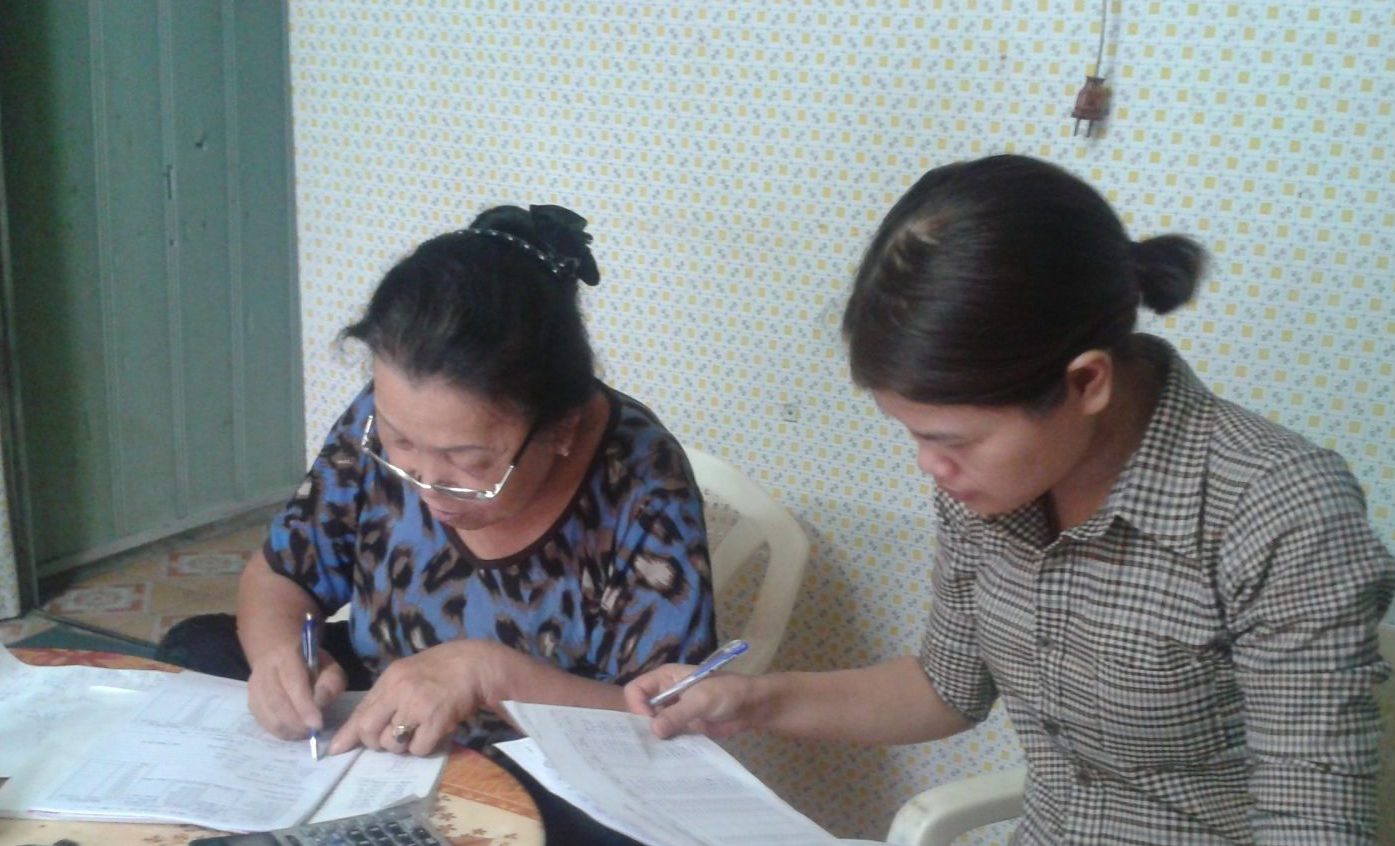 With a solid and assertive voice, morish and healthy figure, and brisk hands, there is a woman, who can talk and smile with other members and at the same time collect weekly repayments in a quick, careful and accurate manner. This women is Mrs Nguyen Thi Phuc – leader of center no.31- Transaction Office 01 Ninh Giang, Hai Duong.  A special thing unkown by many people is that she used to be the vice leader of the artillery women squad namely Tran Thi Ly squad – who was willing with her squadmates to fight agaist enemy to protect the airspace of the country in the years 1966 to 1968.
She have married since the war years. After the victory and the reunification of the country in 1975, she and her husband have focused on economic development and raising their two children and have actively participated in social works at their locality. In 1979, according to the mobilization of human resources to protect the northern borders of the country, her husband, once again, put on backpack over his shoulder to go into battle. By this time, he heroically sacrificed and laid back in the northern border, leaving her two young children. Compressing that painful grief, in stead of  her deceased husband, she has alone acted as both a mother and father to grow up their children.
 
Since the early 2000s, due to the spiral of the market mechanism, a worker's salary was not enough to feed a 3 members-family. She, as many others, found extreme difficulties in getting capital for business. When her locality was covered by TYM, unlike many others who felt timid and fearful, she was brave to join TYM to get loan for starting up her business. Her items that was offered to the market were diversified and constantly changed according to the needs of consumers and by the seasons. The goods could include but not limited electronical products or comsumption products from Quang Ninh, rice from Ninh Giang, or vegetables, fresh foods. By grasping the market demands, she could calculate and prepare suitable supply projects. With only a small capital at the beginning, she just dared to invest in retail activities. However, her business has developed from time to time. Currently, she owns a truck for transportation of goods.
 
In addition to getting loans from TYM for investment in economic development, she is also an active member, and a core center leader. With her talents in singing and sports, she joins proactively in local organizations. She is a vibrant singer, and an active member of the district's volleyball club. To help other women to seize economic development opportunities, she always shares her experiences, and encourages and instructs them how to do business. Perhaps thanks to her vivaciousness, dynamic, and attitude of "dare to think, dare to do", she is always admired and elected as the center leader by all members of center no.31 throughout the past 10 years.
 
With the motto of "one for all", over the past 10 years, she have never minded difficulties and turbulence, together with her cetermates, to maintain the center no.31 as one of the top centers of TYM in Ninh Giang. From the first 10 members, so far she has mobilized and persuaded over 100 women to participate in TYM. Through many positions, from the vice leader of the artillery squard in the past, to a member of the executive board of Women's Association, Executive Committee of Veterans or leader of neighborhood group, and currently leader of the center no. 31, she has always maintained the principle of "words go with hands". These practical and meaningful actions have being contributed an active part in the alleviation of local poverty, thereby contributing to build up a civilized, rich and beautiful nation.

Tran Thi Tuyet Nhung