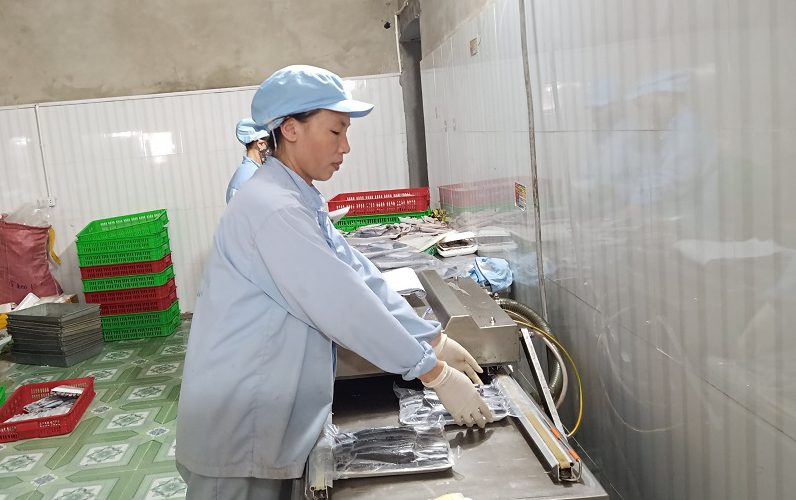 With her own efforts and support from borrowed funds, Ms. Bui Thi Hien Luong (Binh Quynh Joint Stock Company), a TYM's member in Nghe An has brought her hometown seafood to all parts of the country.  
In Hoang Mai town, Nghe An province where Ms. Bui Thi Hien Luong lives there are abundant and plentiful natural seafood resources. Like many others, her family's income comes from the purchase and processing of sea products such as shrimp, stomatopoda, squid, octopus, fish of all kinds, etc. In which, there is chopped herring, a dish that makes her own brand.
Make the herring cake to become well-known
Sharing about her idea of business, Ms. Hien Luong said: As a child of the sea, every day, she witnesses fishermen return home after hard days of fishing with their boats full of seafood; they, however, face the situation of "the peak season, the lower price", forcing them to sell cheaply or use wastefully these food. Meanwhile, many other regions do not have access to this safe and high-quality food source. With the enthusiasm of the youth, she wishes to bring nutritious herring products to each family's meals, while improving the value of herring – one of the main products of fishermen living in the Quynh Phuong sea area and building the brand of the homeland product.
Initially, she tried with fresh herring or grilled herring, but limitations in packaging and transportation made the quality and appearance of the product unsatisfactory. Since then, she has tinkered, researched and tried to make chopped herring. The herring has a lot of bones, so the processing requires a lot of time and effort.
"In order to produce chopped herring, we have to invest in many modern machinery and equipment systems such as: Freezing system with Bitzer water-cooled condenser compressor, CR-900 fish bone separator machine, fish grinder inverter TMTP-C27, vacuums etc. Such machinery investment will help the fish products ensure high quality and longer preservation period. Thanks to that, the economic value of the original herring will be much higher. Products are manufactured according to standard processes from the procurement of fresh fishes, the well preservation of input ingredients, the processing of fishes cakes. In every steps, special attention is put on food hygiene and safety to ensure that the product quality reaches the highest standards with the highest nutritional value and the most delicious. Currently, the herring product has been certified with 4-star OCOP," said the owner of the chopped herring brand.
In the early days of starting the business, she experienced a lot of difficulties while the capital was limited, she couldn't buy raw materials to stock up for year-round production. In addition, the herring season is very short, lasting only 1 to 2 months, without capital, the production of herring products also stagnates.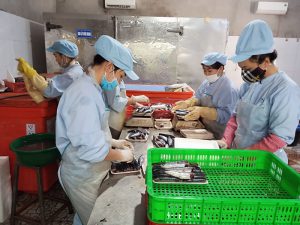 Ms. Hien Luong recalled: "I became a member of the Tinh Thuong Microfinance Institution (TYM) as a focal affinity and get loans for my business at the right time when I needed the most. Joining TYM in 2015, my first loan was VND 7 million as per TYM's policy. 2 years later, I had access to a loan of VND 20 million. Currently, I have boldly borrowed capital with a maximum amount of VND 50 million".
Just like that, after each round of capital, her production and business also grow up. From the lack of capital to buy raw materials, she is currently able to buy enough herring for reserves for the whole year production, has enough capital to rotate the business seasonally, and to buy more modern and larger-scale equipment and machine.
Thanks to her own efforts and the support of loans, from a small establishment, until now, Ms. Bui Thi Hien Luong has developed into a licensed company, with a specialized operating apparatus, creating stable jobs for more than 30 employees with income from VND 4,000,000 to VND 10,000,000/person/month.
With the motto "Differences create value", Ms. Bui Thi Hien Luong strives to make the company become the leading on seafood processing in Vietnam, bring her products to all parts of the country and export to other countries. Her project "Improving the value of herring – towards building the OCOP brand for Quynh Phuong chopped herring" is selected for the regional presentation round, the Women's Startup Contest 2021 organized by the central Vietnam Women's Union.
Ms. Bui Thi Hien Luong, Bien Quynh Joint Stock Company, Address: Tan Hai, Quynh Phuong ward, Hoang Mai town, Nghe An. Website: bienquynhseafood.com
Source: Phụ nữ Việt Nam