Member: Nguyễn Thị Đức Hạnh
Age: 44
Living: Dap Cau ward, Bac Ninh city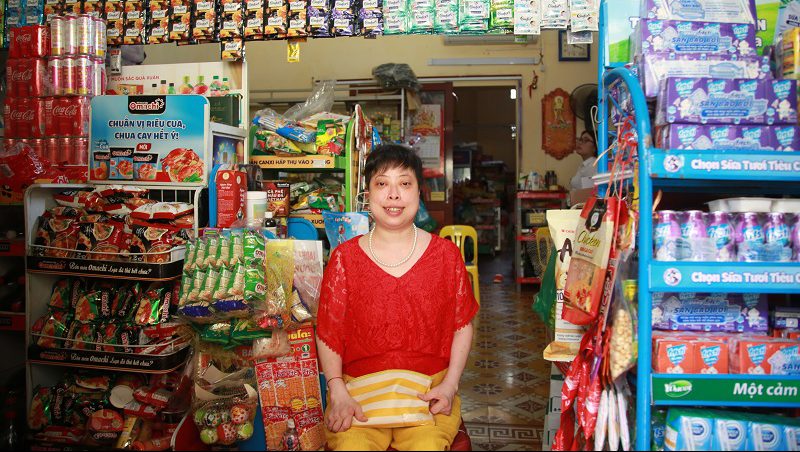 "TYM revived my life"
If only looking at her bright smile, radiant face, quick hands to pick up goods and charge customers, few people know that she had a long time of falling into a deadlock, depression, seemingly unable to find a way out. However, after only 8 years of receiving support and loans from TYM, her life revived and turned to a new page.
Ms. Nguyen Thi Duc Hanh (born 1979) is a member of TYM, center 46, zone 1, Dap Cau ward, Bac Ninh city with a rather special situation, both disabled and single. She lost her parents at a young age, grew up thanks to the support and care of relatives and neighbors. At the age of 20, she suffered from polyarthritis leading to paralysis in both legs. Her life revolved around a small house, being self-care. No money, poor health, atrophied legs without regular medication, she had to lie in one place, all her activities revolved around a small bed. Self-service was difficult, she had to worry about medicine, treatment, boredom, sometimes she wanted to give up. Then, with the encouragement and sharing of relatives and neighbors, she was supported to open and sell groceries. It sounds like a big "grocery", but actually there are only a few packages of instant noodles, soup powder, and a few bottles of fish sauce. It is just to give her a source of livelihood, but mainly a channel for her to communicate with the outside world. Fortunately, in 2014, thanks to the introduction of the Vietnam Women's Union of Dap Cau ward, she knew about TYM.
When she becomes a member of TYM, she feels like she found her home again. Members in the center often encourage, visit and help her. 10 million dong was her first loan from TYM. This amount seemed small but a very important source for her. "Holding the loan, I was very worried. Where would I get to pay the debt in case of failure? In addition, if not being successful, I would also betray the kindness of everyone," – Ms. Hanh recalled those days.
Over the years, after being able to pay off old debts, Hanh borrowed new ones, with increasing amount from 10 to 20, 30 million dong. Knowing her situation, each time processing a new loan for her, TYM sends staff to her house to directly support. Currently, she is able to borrow two types of loans: multi-purpose loan and policy loan (a preferential loan product for poor households/women with disabilities/affected by HIV) with a total amount of VND 50 million. Thanks to that, she gradually expanded the business scale; the store had many new items, was repaired spaciously, neatly and cleanly. In particular, her income improved; she was able to buy more household items for personal use, while helping her sell goods more conveniently.
Currently, with her income and repayment capacity, along with the support policy of TYM, Hanh can both borrow money to expand the store size, repair the house to be more spacious, clean and beautiful, and at the same time, save some money. The store has developed and brought out a stable income; she is much happier and healthier. Now, she has many suppliers as well as regular customers. Everyone is willing to help her such as putting products into the shelves, taking the goods by themselves etc.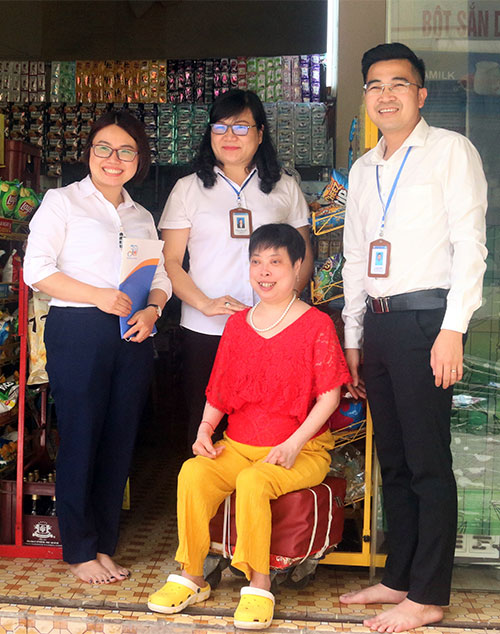 Ms. Nguyen Thi Kim Uyen, Director of TYM Bac Ninh branch shared: "For the first time, when we went to appraise Ms. Hanh's profile, we were also very concerned about her health, and wondering how she were able to succeed with her plans. However, with the mission to improve the quality of life of low-income individuals and households, especially giving priority to poor and disadvantaged women, TYM still decided to lend and called for branch officials and local women to support her. Accompanying her for a time, we were very surprised to see a brave, confident and loving Hanh. Hanh is a shining example of energy, creating more motivation for us to carry out our tasks, supporting unfortunate lives like her to rise up in life."