"Improvement of digital capacity for TYM's members" is a program jointly implemented by TYM and the Asia Foundation Representative Office in Vietnam. The program is part of the initiative regional project "Go Digital ASEAN" supported by Google.org in 10 ASEAN countries – the aid was received by Asia Foundation. For many years, TYM has offered loans and savings products and also capacity building programs to its members for poverty reduction and economic development. Nowadays, the shift to digitalization will lead to many changes in life, production and business, which they cannot immediately adapt. Therefore, helping them grasp new knowledge about digital technology, change their perception and apply it to their lives is extremely necessary, especially in the current pandemic context. Vietnamnews.vn had an article after more than 1 year the program being implemented: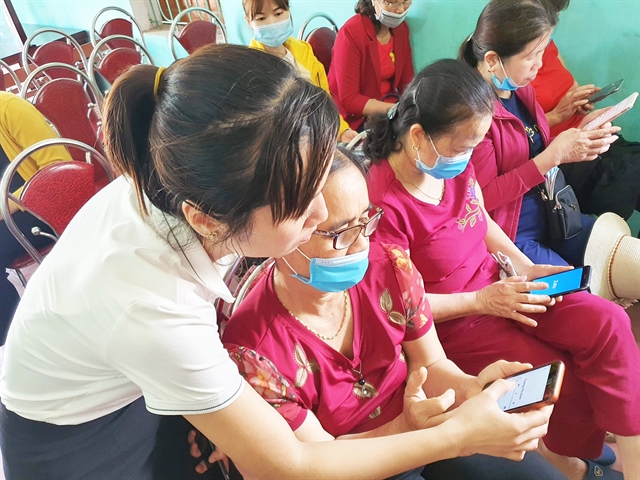 In the northern and north-central parts of the country, Go Digital ASEAN has helped thousands of micro-entrepreneurs improve their capacity to use digital applications to market their products online and access business information and networks to better manage and expand their businesses amid the COVID-19 pandemic.
Vũ Thị Anh Thơ, who runs a watch shop in Nam Định City, told Việt Nam News: "Before COVID-19, I had a steady stream of direct customers. Once the pandemic began and social distancing set in, I lost a significant number of customers. My family's income reduced accordingly.
"I have learnt many things, thanks to the training programme, but my greatest gain has been increasing the sales of my products through e-commerce, which I had never thought of before.
"A particular lesson on e-commerce channels left a strong impression on me as it provided me with business ideas on using various digital channels to promote my products and boost my income during COVID-19.
"I have begun using sites like Lazada and Shopee to sell my products. I have attracted a significant number of customers through them, and I now also know how to facilitate secure internet banking transactions.
"I would like to expand my online sales through more digital channels like Zalo and Tiki, and also onboard more products on my platform to better appeal to and serve customers."
Speaking to Việt Nam News, another trainee in the programme, Nguyễn Thị Chuân, who farms, processes and sells fish in Diễn Châu District, Nghệ An Province, said earlier she used to sell her products only in her commune or nearby areas.
"Through the training programme, I learnt how to make videos to advertise my products on Facebook and Zalo. So customers in many northern and southern provinces and cities, including Hà Nội and HCM City, know about my products and place orders. My family's income has increased accordingly.
"The training programme was very useful and helped me understand digital technology to interact better with customers, know their feedback, get market information, and expand my market."
Vũ Thị Bình of Bắc Giang City said: "My family has an agency selling rice noodles and rice pancakes. Most of my customers already have access to digital technology. Now I must also gradually get used to it.
"After the training we learnt methods and ways to advertise products, and post or write reasonable content to promote products. At first it was confusing, but once we got used to it, it became very easy.
"Thanks to the posts and product descriptions on the internet, my customers have contacted me and placed orders. I am very excited."
They are among nearly 65,000 entrepreneurs and underemployed youths in Việt Nam who have benefited from the Go Digital ASEAN project.
Approved by the ASEAN Coordinating Committee on Micro, Small, and Medium Enterprises and implemented by The Asia Foundation with support from Google's philanthropic arm, Google.org, the project is designed to equip micro and small enterprises and underemployed youth with crucial digital skills and tools, especially in rural and isolated areas, expand economic opportunity across ASEAN member states and mitigate the negative impacts of COVID-19.
Micro, small and medium enterprises account for 99 per cent of all businesses in the region and employ more than 80 per cent of the workforce, but a majority of small business owners, and underemployed youth, in rural areas use their smartphones for communication and entertainment rather than for business.
Launched a year ago, the project aims to train up to 200,000 individuals across the region, 60 per cent of them women, broadening participation in the digital economy and creating a more inclusive ASEAN region.
Filip Graovac, Vietnam deputy country representative at The Asia Foundation, said: "With support from our partners [Tình Thương One-member Limited Liability Microfinance Institution and Vietnet Information Technology and Communication Centre], the programme has been very successful in Việt Nam and as of June 2021 we have trained 65,000 entrepreneurs and underemployed youth, 80 per cent of which are women, in the northern and north-central parts … in digital skills like online job search, basic social media marketing and online safety and security."
Marija Ralic, APAC lead, Google.org, said: "COVID-19 has certainly impacted millions of people directly and billions more through the impact on the regional economy. Reports have shown that over 81 million people have lost their jobs here in APAC, with another 25 million seeing their incomes shrink to poverty levels, and the numbers continue to rise.
"With continued economic challenges, rising unemployment, and a demand for new skills, we recognise technology can help people find work, keep businesses going and learn new skills. As the pandemic wore on, so has our strategy. We quickly pivoted our efforts to focus on economic relief and recovery by focusing our efforts on supporting digital training and upskilling programmes that will benefit impacted businesses by the pandemic.
"Just like the Go Digital ASEAN programme, collaboration and support of non-profits, the public sector and government agencies are critical to combat the pandemic."
Graovac said: "While technology has empowered hundreds of millions of people across Southeast Asia, many more are struggling to survive, and are urgently looking for ways to adapt their business to reach new markets. Mastering the new digital landscape has become increasingly important to the future of Việt Nam's digital economy."
The Asia Foundation and its partners would continue to run the programme and train another 16,650 people this year, he said.
"We are aware that the demand for digital skills, especially during the COVID-19 crisis, is extremely high."
Source: vietnamnews.vn