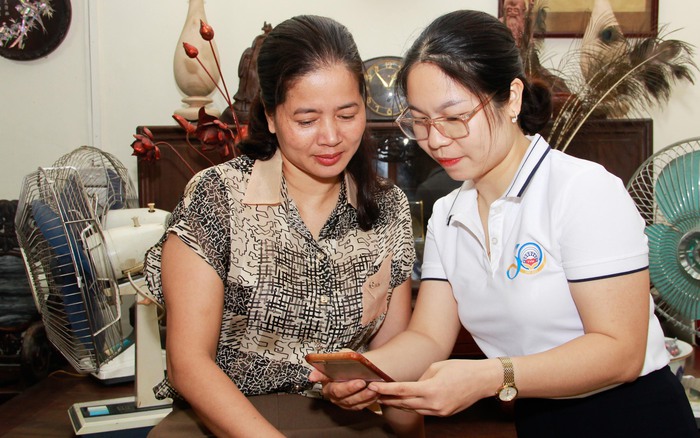 Piloting the collection of payment and deposit via banking account, clients of TYM Nam Dinh City Branch are gradually applying the non-cash payment method. This contributes to improve clients' experience by its convenience, rapidity and safety, while supporting TYM officers save time and increase labor productivity
Improve clients' experience, increase labor productivity
In the middle of a hot summer afternoon, Ms. Pham Thi My Ha, a technical officer of TYM – Nam Dinh City Branch, is in a hurry to travel to Hang Cap street (Tran Hung Dao ward), where TYM's borrowers are familiarizing themselves with a bank's App (Application) on mobile phone. She carefully guides clients step by step to deposit money into their account, or make a transfer; instructs them to keep a minimum balance in the account on the due date of weekly or monthly repayment so that the banking system can automatically deduct repayment from the balance.
Ms. My Ha currently serves 14 centers in 12 wards with 638 clients of TYM. Many elderly clients are afraid to change their habits of using cash; thus, it is still a very difficult journey to encourage them to change their minds to adopt technology. After being instructed by TYM staff, Ms. Phan Thi Lien, a small trader living on Hang Cap Street, raised her phone to show off: "Now I can do money transfers using the App on my phone; I don't need to do transactions in cash. It is so convenient." Although being a small trader and trading a lot, Ms. Lien admits that she is afraid to learn about technology, afraid of transferring money wrongly or losing money. That is why she has only used cash in transactions for decades.
Ms. Lien has joined TYM from the early days with a loan of VND 50 million to expand her business. In the past, on the weekly due date, she would temporarily close the stall to go directly to the center (i.e. the local transaction points of TYM) to make repayment and deposit money; it is inconvenient and also causes her to lose a business day. "Now, thanks to step-by-step guidance by TYM staff, I'm really reassured and gradually develop the habit of making non-cash payments and transactions", Ms. Lien said.
In the center 47 in Nguyen Tri Phuong (Van Mieu ward – Nam Dinh city) there are 38 borrowers. The center leader Do Thi Thuy Van said: "When the Covid-19 pandemic was still stressful, the clients, who came to repay or deposit, must wear masks, anti-drop glasses and rubber gloves; the money was also sprayed with antiseptic water, thus becoming very wet. Even, for the client who was in isolation, she had to make the money antiseptic and then drop it from a high floor to the center leader". Ms. Thuy Van shared that from the date of piloting weekly or monthly repayment via banking App, the clients do not need to go to the collection center directly. Instead of that, the bank automatically deduct the repayment from their accounts. It is convenient for the clients and at the same time contributes to ensure safety against the pandemic.
Currently, the technical officer Pham Thi My Ha is the "champion" who has encouraged 130 out of her total 638 clients to select the repayment and deposit via banking account. Reduction of cash payments by clients means that technical officers would save time waiting for clients to come to directly repay and do other procedures.
Ms. My Ha estimated that given her plan to have over 30% of the clients of selecting repayment and deposit via the bank's App by the end of 2022; she would be able to save a lot of time for collection, especially reduce the amount of cash, which officers need to carry on road, thus more safety for officers. "The more number of clients who use technology and do non-cash payments, the more time TYM's officers would save for loan appraisal, field visit and recruitment of new clients", Ms. My Ha shared.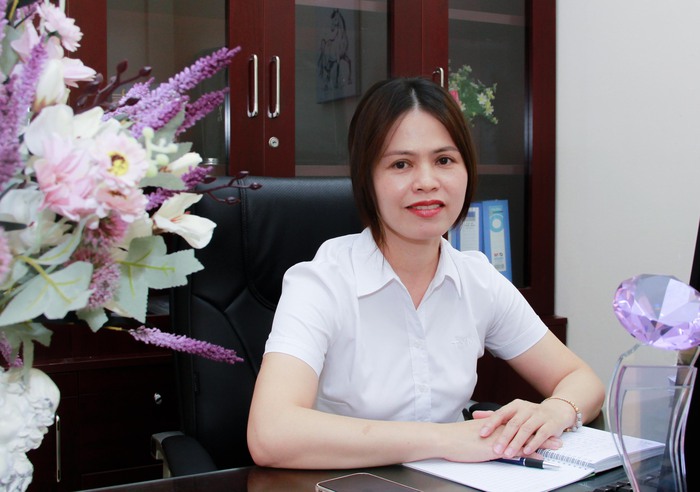 Four important lessons of implementing non-cash payment
At the end of March 2022, TYM Nam Dinh City Branch and Vietnam Joint Stock Commercial Bank for Industry and Trade – North Nam Dinh Branch signed an agreement on the provision of collection and payment services. Accordingly, since April 1, 2022, TYM clients may register to do repayment of TYM's loans and deposit through a bank account instead of doing cash transactions as usual.
Ms. Ngo Thi Nga, Director of TYM Nam Dinh City Branch, said: After 3 months of piloting non-cash payments through banking services, so far there have been 685 TYM clients of the branch using this service. As planned, by the end of 2022, this number would reach 1,500 clients. By the end of 2024, the branch strives to have 60% of its clients using non-cash payments.
The current difficulty is that most of TYM's clients are elderly, retail traders, and self-employed. They are slow to get used to technology applications for payment and transactions. During the pilot period, TYM officers must spend more time and effort to encourage, advise and guide clients to use the bank's App for payment. However, the positive effect of non-cash payment is becoming more pronounced. Only half of the clients of each center do repayment through banking accounts, it would save half of the collection time for center leaders and TYM's officers. In particular, the banking collection and payment service also creates transparency and improve accuracy because clients pay money through their account with a clear transaction amount, date and time.
According to Ms. Ngo Thi Nga, after the pilot period, there are four important lessons:
First, MFIs need to change the mindset of their people and encourage clients to change their habits of using cash and using technology in transactions. In particular, it is very important to change the perception of its people. In the first time of changing, officers would be pressured due to additional workloads. They need to understand that this is a short-term difficulty, but brings long-term benefits.
Second, MFIs need to base themselves on the actual situation of the locality to take the most Appropriate and effective steps to implement the non-cash payment program.
Third, MFIs needs to pay attention to negotiating with their banking partners so that the two parties "match each other" in the collection and payment process in accordance with the characteristics of each party.
Fourth, whether the program is successful or not, the most important thing is to create consensus and unity of the whole network, from the branch management to each officer and clients with the same determination to overcome difficulties in the transition period from the old way to the Application of digital technology. Therefore, the branch should have an extensive communication plan for staff and clients; must review groups of clients and develop a specific and suitable implementation plan; regularly update the actual difficulties to solve timely; as well as assign targets for staff together with incentives to create competition among staff themselves.
The director of TYM Nam Dinh City Branch also expressed her belief that digital transformation and non-cash payment would contribute to reducing manual work and increasing labor productivity of TYM people. As a result, each TYM staff member has more time to expand and develop the number of clients in potential areas such as industrial parks and in businesses.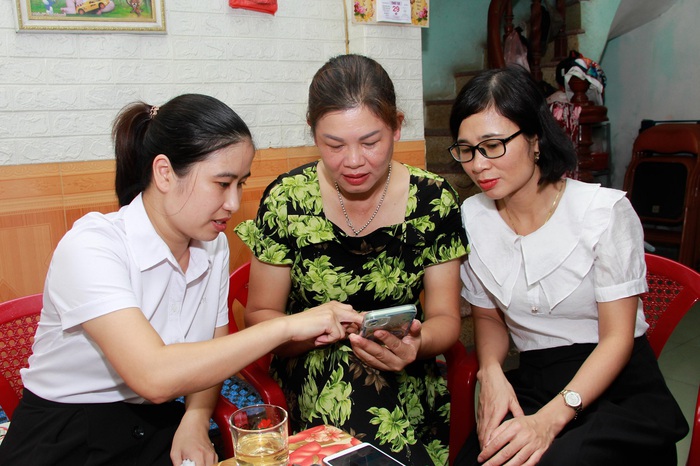 Recently, TYM and 13 Women's Unions of provinces/cities signed a coordination program for the period 2022-2026. Among the 7 coordination tasks, there is one on promoting the Financial Inclusion Strategy and it clearly states the task of coordinating with commercial banks to implement non-cash payment for TYM's clients.
Source: Báo Phụ nữ Việt Nam