At the age of 60, Mrs. Hoang Thi Len (a member of Vietnam Women's Union in Dong An village, Xuan commune, Xuan Truong district, Nam Dinh) has just set foot in her own house. It is a home built thanks to the support of TYM Nam Truc Branch in collaboration with the district Women's Union as well as the sharing of relatives and neighbors.
Youth full of tears, no fixed abode
In 1989, thanks to the matchmaking by a relative, Ms. Len married Mr. Phuong. Mr. Phuong's hometown is in Lao Cai, thus after their marriage, Mrs. Len's parents made them a small house right on their own land. A few months later, the couple had good news, Mrs. Len was with a child. Before her parents, relatives and Mrs. Len herself had time to celebrate, one morning the family suddenly discovered that Mr. Phuong had left without saying goodbye. On the day she went into labor, he did not return.
In 2000, when her daughter turned 12, she received his first and only letter. At that time, her parents had followed each other passing away. With nothing to hold back, she quickly packed a few clothes and took her daughter going over 400 km to Lao Cai town to reunite with the husband.
During the short and passionate days after "broken mirror was healed", they quickly got a second good news. They gave birth to another baby boy in 2001.
But life is not what one hopes. Returning home after working, Mr. Phuong always drunk wine. And every time he drunk, the melancholy in his life turned into blows that were poured out on Len. As his drinking capacity increased, his beatings increased in number and severity. More than once, her daughter had to take her to the hospital for emergency.
Being overwhelmed, one day she quietly escaped from the husband, who was sleeping in alcohol, and returned home alone to prepare for a new life at her hometown.
Put up in the homeland of the father and mother
Back in the village, after all these years, she had nothing left. Her former house, after she left, the brother took his wife and children to stay in. Their family was not well off either.
No house, no money, her luggage contained only a growing shame. From going to the mountains, back to the river, she was really helpless. Fortunately, at that time, a relative in Giao Thuy district (Nam Dinh) took her mother and her daughter to stay temporarily.
Later, understanding her family situation, her cousin Hoang Thi Tho, also a single woman in Dong An village, Xuan Tan commune, Xuan Truong district let her stay in the family's kitchen. The kitchen is tight enough for only a small bed. She consoled herself: there is nothing that needs to be spacious.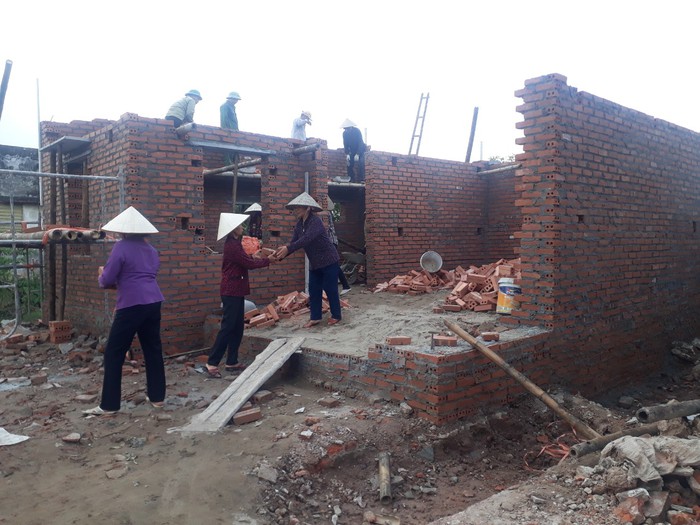 The old kitchen is several decades old and has become dilapidated. Living here, she also does not have a toilet or clean water for living. Every night, when it rains, water leaks into Mrs. Len, she has to cover her raincoat to the top of the curtain to lie down and wait for morning. On stormy days, she did not dare to stay in the kitchen, had to run to relatives' houses to sleep. She was always afraid of hidden dangers from this old kitchen. But after years of doing enough hired work from harvesting, planting to weeding, growing vegetables, they family only earned vegetables and porridge day by day, let alone repair or dream of a house of their own. Her family has been recognized as a poor for many years in the locality.
60 years old sleeping in her own house for the first time
By 2020, Mrs. Len's health became worse. Going to the doctor, she knew that she had many diseases: blood fat, cerebral circulatory insufficiency, polyarthritis, making it difficult to walk, move…
There were times when she was sick and stayed at home all week. Relatives visited and all was embarrassed and felt sorry for her circumstance. Rural people have always attached great importance to the house, which is not only a protection from the rain, the sun but also a place to return to in minds.
Through the Women's Union of Xuan Tan commune and Xuan Truong district, TYM Nam Truc branch knew about her family's situation and wishes and cherished the intention to support the family to build a social house from 2020 but has not yet implemented it during the year. At the beginning of 2021, in a series of practical activities to celebrate the election of deputies to the 15th National Assembly, People's Councils at all levels and Women's Congresses for the term 2021-2026, TYM Nam Truc branch coordinated with the district Women's Union quickly decided to give her family a financial support of VND 15 million to build a social house. While the family was in dire need of everything, the support from the WU and TYM, despite of small amount, was as timely as a medicine to strengthen her. Knowing this program of TYM and Women's Unions at all levels, her relatives and other WU's members shared that it is difficult for each person to help Len in single but presently together with TYM and the district and commune Women's Union they determined to join hands to support her.
So one gave a few thousand bricks, one gave a few bags of cement, one helped with sand trucks, one contributed work days, donated the whole old door etc. After nearly 3 months with that cooperation, the "house of love" was completed with an area of 50m2, brick-built, solid and secure for the family. On May 20, 2021, TYM Nam Truc branch cooperated with the district Women's Union to hold a ceremony to hand over the house to Mrs. Len's family. During the handover ceremony, Mrs. Len touched shared "thanks to the Women's Union at all levels and TYM for supporting me to have such a solid and warm small house. I would like to thank the Women's Union at all levels, TYM, local authorities, and neighbors for supporting us to have a roof to protect from rain and sun."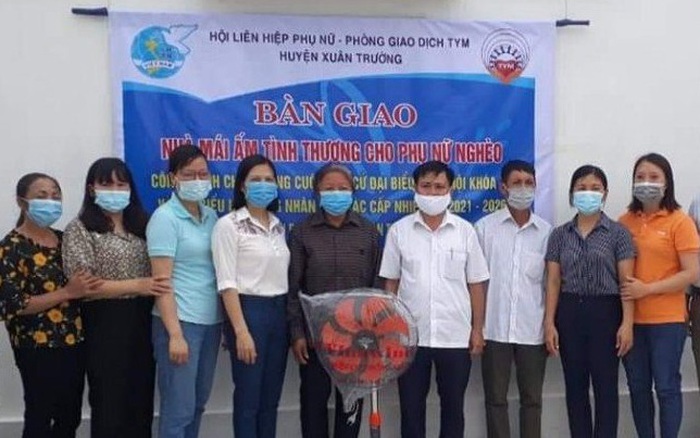 More than a month since living in the new house, Mrs. Len is still ecstatic like a person in a dream, not daring to believe it's true.
Mrs. Len said, one night when she was sleeping, she was startled to hear thunder and showers, she still reflexively cowered in the corner of the bed because she thought to be still in the old dilapidated kitchen.
Supporting the construction of "Social House" is one of TYM's practical programs in 2021 to celebrate the election of deputies to the 15th National Assembly, People's Councils at all levels and Women's Congresses at all levels for the term 2021-2026. Specifically, 80 district Women's Unions and 13 provincial Women's Unions are supported with a total budget of VND 1.65 billion.
With this support, the localities have planted 3,800 trees, 52,450m of flower roads in the district/commune/village; supported to newly construction of 09 buildings and provision of sports equipment to serve the local community to improve their health; granted 475 trash cans to members and placed them in public places; printed communication materials to celebrate the Congress (19 Pano, 500 communication fans, 2430 leaflets); supported to construct 3 social houses for members in need in Nghe An, Nam Dinh, Bac Giang and gave gifts to 17 families in need in Hai Hau (Nam Dinh); along with various other activities such as drawing posters, equipping meetings equipment for community houses, etc
Source: phunuvietnam.vn