Microfinance (MF) has been confirmed as an important tool in poverty reduction in our country. With nearly 30 years of operation in the MF, Tinh Thuong Microfinance Organization (TYM) has contributed significantly to reducing poverty as well as to promoting gender equality in Vietnam by enhancing economic power for women. MF in general and TYM in particular have been and will make important contributions to the implementation of the National Financial Inclusion Strategy (NFIS) in Vietnam.
On 22/01/2020 the Prime Minister signed the Decision no. 149/QD-TTg on ratification of national financial inclusion strategy to 2025 with orientation to 2030. To better understand the role of MF, especially that of TYM in the implementation of the NFIS, Phu nu Vietnam had a discussion with Ms. Nguyen Thi Thu Hien – Member of the Presidium of the Vietnam Women's Union (VWU) cum General Director of TYM.
Q: The Prime Minister has promulgated the National Financial Inclusion Strategy to 2025, with a vision to 2030. What is the role of MF in this Strategy? As a microfinance institution (MFI) licensed by the State Bank of Vietnam with an experience of nearly 30 years, how is TYM's participation in this Strategy?
MF is not a mere financial service and it has been proven that MF brings profound social insights and plays a significant role in the implementation of NFIS. In the NFIS, this important role of MF is mentioned directly and one of the key solutions to achieve the Strategy's objectives is identified as "Developing a system of microfinance organizations, programs and projects that operate safely, effectively, expanding access to financial services for the poor, low-income people, women, and micro-enterprises".
General objective of the Strategy: All citizens and businesses have safe and convenient access to and use of financial products and services in accordance with their needs and at reasonable costs, provided by licensed organizations with responsibility and sustainability.
A number of targets to achieve by 2025: At least 50% of the total number of communes that have financial service points; At least 25% – 30% of adults deposit savings at credit organizations; The number of non-cash payment transactions reaches an annual growth rate of 20% -25%; Outstanding credit for agriculture and rural development on the total outstanding credit to the economy reaches 25% ….
TYM's participation into this Strategy is that TYM provides credit and savings in a responsible and convenient manner to the poor, near-poor, disadvantaged, and low-income women in rural and semi-urban areas. TYM also supports enhancing women's financial literacy through diverse and appropriate training and capacity building activities. I believe that to achieve such the targets as agricultural and rural credit balance, adult savings balance, financial knowledge and capacity etc. there are contributions of MF in general and TYM in particular.
As of 30/9/2021, TYM operates in 751 communes in 78 districts in 12 provinces/cities. The number of its customers reaches nearly 180.000; loan outstanding of VND 2,007 billion; savings balance of VND 1,852 billion, repayment rate of over 99.9%.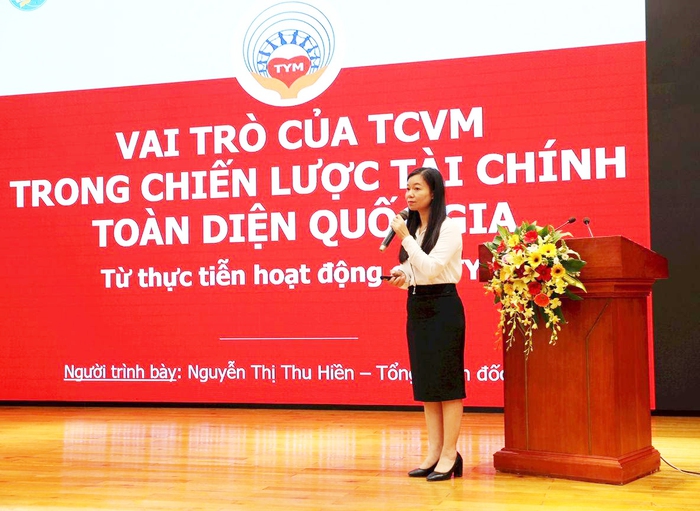 Q: As you just mentioned, TYM's clients include mainly women, in which TYM pays a special attention into poor and disadvantaged women in rural and remote areas. Can you share about TYM's efforts in supporting these groups to develop over the past 30 years?
Over the past three decades, TYM has remained steadfast in its mission to accompany the development of Vietnamese women by providing appropriate, safe, convenient and responsible microfinance products. All TYM's clients are women, divided into four groups as (i) disadvantaged clients including poor women, women with disabilities, women infected with HIV or living with relatives infected with HIV, (ii) near-poor client, (iii) low-income clients, and (iv) micro-enterprises.
With appropriate approach, the poor can step by step lift themselves out of poverty and actively participate in socio-economic life

TYM's GD- Nguyen Thi Thu Hien
TYM's credit products are accordingly designed in a variety of ways to suit each group. Given the characteristics of the target clients, TYM implements a door-to-door service model, and at the same time applies monthly and weekly installment repayment in line with the cash flow of each group. TYM's loans do not require collateral to facilitate access of clients. For disadvantaged women, TYM designs products with preferential interest rates, while paying attention to their capacity building and prioritizing to support them via various welfare programs. The group of micro-enterprises can access capital up to VND 100 million. Savings products are also designed flexibly and suitably, allowing clients to deposit from a very small amount (5,000 VND/time) so as help them build saving habits and accumulate assets for the family. Along with that, programs that add value to clients and the community are regularly carried out by TYM and are an important tool to support clients' comprehensive development.
Over nearly 30 years of operation, TYM has supported thousands of women to sustainably get out of poverty and become micro-entrepreneurs, of which 93 women won the Citi-Vietnam outstanding micro-entrepreneur award, 01 women won the Global Micro Entrepreneur Award. In the last 2 years, TYM has promoted its support for clients participating in the Women's Entrepreneurship Contest organized by the VWU within the Project "Supporting Women in Entrepreneurship in the period 2017-2025". As a result, in 2020 and 2021, there were 45 TYM's members supported to participate this Contest, 7 of which won prizes with a total prize value of up to VND 730 million.
Q: Can you share about the advantages and disadvantages of TYM when implementing financial inclusion?
Firstly, its biggest advantage and difference is that TYM is a unit under the VWU, so TYM receives the close direction of the Central Committee of the VWU, the close cooperation and companionship of the WUs at all levels in the areas where TYM operates. Therefore, TYM's activities are implemented strictly and methodically, ensuring safety and especially gaining the trust of women in particular and the people in general.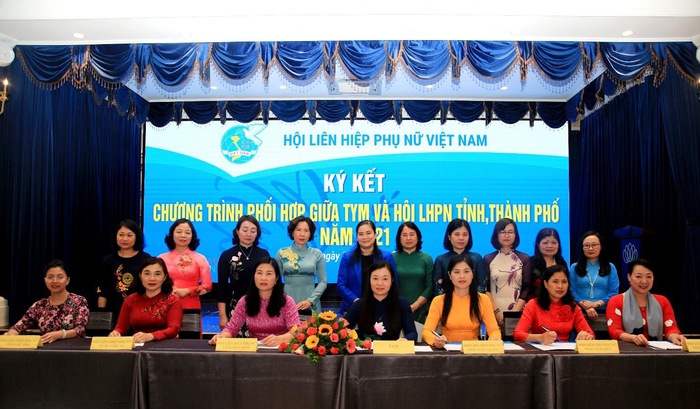 Secondly, TYM has a long history of nearly 30 years of operation and experience that have confirmed its reputation and position in the MF industry.
Thirdly, TYM has an invaluable asset that is a team of nearly 600 experienced, enthusiastic, responsible, dedicated and loyal staff members to the mission of the organization.
Regarding difficulties, its biggest one is related to financial resources and capacity of the MFI in expanding access through technology-based distribution channels. TYM also finds it difficult to access cheap domestic loans. In particular, the expansion of TYM's client base is also a challenge when the concept of "low-income individuals and households" specified in the Law on Credit Institutions has not yet been specified in other underlying documents.
Q: Can you share more about TYM's plan to contribute to the implementation of the NFIS?
TYM has developed and issued an Action Plan to implement the NFIS. Up to now, TYM has implemented a number of major activities as below:
Currently TYM has completed the development of a new core banking software. With this, TYM becomes the first MFI in Vietnam to build up and apply core banking software, creating a premise for more technology application in its operations in the near future. In order to help clients early access to digital financial services, in 2020-2021, TYM has focused on training them to know and use a number of simple digital technology applications, providing information about digital financial services and gradually orienting them to use digital financial services.
Besides, TYM constantly improves the quality of existing products and services and at the same time researches for new products and services to better support and meet the needs of each group of clients. Most recently in September 2021, TYM launched 2 new products including loan to support clients affected by the pandemic and loan to create jobs. Various preferential conditions are applied to these two new types of loan to support women to stabilize business activities after being severely affected by the Covid-19 pandemic.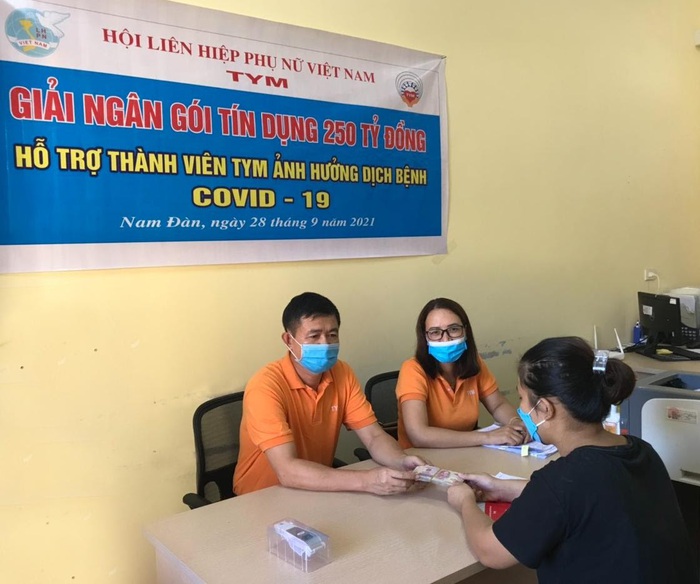 In order to promote TYM's role in the implementation of the NFIS, what does TYM propose to policy-making agencies?
In order for MFIs in general and TYM in particular to contribute more actively to the NFIS, we very much hope that management agencies will soon complete mechanisms and policies to create favorable conditions for microfinance organizations, programs and projects to operate and develop smoothly. Firstly, we suggest the SBV to consider amending Circular 03/2018/TT-NHNN dated February 23, 2018 on licensing, organization and operation of MFIs to expand the target clients of MF as defined in the Law on Credit Institutions, that is to include low-income individual and households. Secondly, we earnestly request the SBV to study and allow qualified MFIs to open payment accounts for clients. Thirdly, as one of the solutions stated in the Strategy, we hope that the Government will soon have a mechanism for microfinance organizations, programs and projects to access cheap domestic capital.
We believe that under the favorable legal framework and policies, with the determination, efforts and dynamism of each organization, MFIs in general and TYM in particular will make the most out of their potential, actively contributing to the implementation of the NFIS.
Thank you for these sharing!