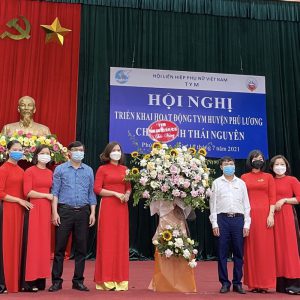 On July 15, 2021, TYM held a conference to deploy activities in Phu Luong district, Thai Nguyen. Attending the launching ceremony were Mr. Le Van Quy, Permanent Deputy Secretary of the District Party Committee, Chairman of the People's Council of Phu Luong District.
At the conference, director of Thai Nguyen branch gave an introduction of TYM's activities, especially clarifying the benefits TYM brings to women and the community. On this occasion, TYM Thai Nguyen branch gave a support of VND 40 million to a women member of Vietnam Women's Union with extremely difficult circumstances to build a subsidized home and also gave 30 gifts to poor women members in Phu Luong district.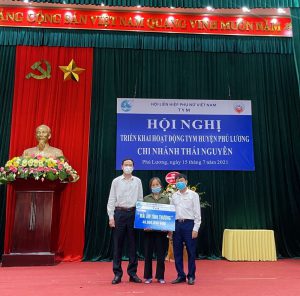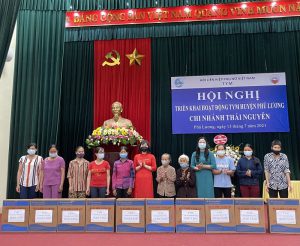 The expansion of TYM activities in Phu Luong, Thai Nguyen will help women members in the area to access loan services, save money safely and conveniently, create opportunities for women (especially poor, disadvantaged women) to participate in economic activities, contributing to asserting themselves and improving their position in the family and society.
1. TYM's contribution to Vietnam Women's Union (VWU):
Contributing to the development of members of VWU;
Contributing to building the grassroots of VWU where TYM operates through capacity training for VWU staff;
Propagating the Association's activities to women through TYM's activities.
2.Contributing to ensuring the well-being of the locality, community and society
• Contributing to poverty alleviation;
Contributing to ensuring security and order in the area by supporting people to take out loans and develop family economy;
Accompanying localities to strengthen social security: Supporting the New Rural Development Program; building subsidized homes; giving scholarships for poor children; organizing cultural exchange activities.
Integrating propaganda of guidelines and policies of the Party, State and localities to the people through group activities. Strengthening capacity and discipline for women, helping to raise awareness and responsibility towards the community, locality and society.
Contributing to train women to participate in the People's Councils and other socio-political organizations at all levels.
3.Positive impact on women
Creating opportunities for economic development, improving quality of life through access to financial services (loans, savings) for investment in production and business.
Supporting women to develop comprehensively, improving their capacity, strengthening their position, helping women become bolder and more confident through various programs and community activities.
Women are cared for in health care, supported to build subsidized homes, and their children are supported to continue going to school in difficult times.
TYM – Thai Nguyen Branch