The award ceremony of the Women's Startup Contest 2021 organized by the Vietnam Women's Union was held on the morning of October 15, 2021 both directly and virtually in Hanoi and at other places in Vietnam. Among 24 excellent and typical projects honored at this award, 5 customers of Tinh Thuong Microfinance Institution (TYM) received awards.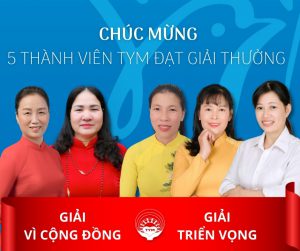 Officially launched in mid-February 2021, up to now, the 4th Women's Startup Contest with the theme "Women starting a business elevating OCOP product brands" has attracted 1,549 project proposals/ideas. Most of the contest projects showed passion, desire and innovative spirit in business development, especially startup projects and business start-ups of ethnic minority women, people with disabilities. Disabled, HIV-affected women, and re-integrated women into the community have been promoting the internal resources and role of a specific group of women in economic development.
Responding to the Women's Startup Contest 2021 launched by the Vietnam Women's Union, TYM has mobilized and encouraged women in 13 provinces and cities to participate. Going through many rounds of competitions and presenting projects, TYM has had 5 customers with typical projects that have been honored at the contest, specifically:
Community Award:
– Ms. Nguyen Thi Huyen from Hanoi with the project of Cooperation Group to link the production chain of vegetables and fruits with OCOP standards,
– Ms. Nguyen Thi Sam from Thanh Hoa province with the project of industrial garment processing for export supermarket bags;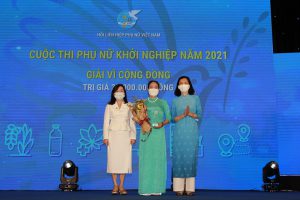 Prospect Award:
– Ms. Bui Thi Hien Luong from Nghe An province with the project "Improving the value of herring – towards building the OCOP brand for the product  'Quynh Phuong herring rolls;' "
– Ms. Nguyen Thi Nhu, Bac Giang province with the project of planting high-tech agricultural crops.
– Ms. Nguyen Thi Nhai, Vinh Phuc province with the project of growing clean grapes.
From the very beginning, TYM has advocated maximum support for all projects of TYM customers selected to compete right from the regional competition round (34 projects) with consulting to make application documents, presenting ideas, to providing necessary equipment for customers to have the best conditions when participating in classes, presenting ideas for the contest. In the context of the epidemic, and all activities took place online over the course of several months. TYM believes that it is not only necessary to accompany customers in loan and savings activities, but also to help women participate and connect with big playgrounds such as this "Women Entrepreneurship Competition" so that TYM members have the opportunity to share and learn and especially introduce their project to many people. The stories and successes of TYM members today are also the motivation and inspiration for many other women to rise up, start a business, and develop the economy, thereby enhancing their position in the industry, in their family and in the society.
Since 2020, TYM has had 7 members honored to receive awards at the Women's Startup Contest of the year organized by the Vietnam Women's Union.