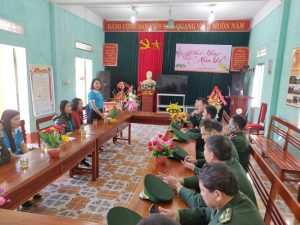 In the highland of Lang Son, when people hear about Bac Xa commune of Dinh Lap district (Lang Son), people think of a "faraway place". However, after 3 years of implementing the program "Accompanying with Bac Xa women," the results of the support can be measured by numbers.
Although only more than 100 km from Lang Son City, the road to Bac Xa is difficult to reach as it has a lot of turns and hills. Being an extremely difficult border region III, Bac Xa has a border of more than 33 km. The commune has 5/13 border villages. The life of women and people here is difficult, they mainly earn living by doing agriculture and forestry. The commune has 324 households with 1,508 people of which the Nung ethnic group accounts for 98%. More than 3 years ago, the number of poor households here was 119 (accounting for nearly 37%)…
In such a difficult situation, in 2018, the Program "Together with Women in Frontier 2018-2020", organized by the Vietnam Women's Union and the Border Guard Command, selected Bac Xa as one of 110 disadvantaged border communes to receive support. The units directly involved in supporting Bac Xa include the Ethnic Minority and Religious Affairs Committee of the Vietnam Women's Union, Tinh Thuong One Member Limited liability Microfinance Institution (TYM), the Bac Xa Border Guard Station, the Women's Union of Lang Son Province. .. Over the past 3 years, the units have actively implemented and cooperated with Bac Xa women with many practical and sustainable activities focusing on 3 main contents: livelihood, civil works and the consolidation and development of the grass root levels of the Vietnam Women's Union.
Reviewing the activities for the period of 2018-2020, the Executive Committee of Bac Xa Commune Women's Union said: Through the guidance and implementation of the activities of the support units, it has led to positive changes in perceptions and behaviors of members, women and people in the commune. Activities of building toilets, models of waste classification and waste collection at prescribed places … helped women understand, practice and know how to use hygienic latrines, waste treatment, house arrangement, clean and tidy kitchen, not keeping cattle and poultry together, moving cages away from home … At 5/5 border villages, there are 28 households joined in signing and coordinating with the Border Patrol to manage and protect more than 33 km of the border and 40 milestones … The initial success of the Program has been evaluated as bringing about changes with members, women and people in the commune and contribute to building a strong organization of the border region.
In 2018, TYM focused on supporting 57 sanitation facilities for poor ethnic minority women households. The Border Guard High Command supported for essential auxiliary works for the cultural houses of the villages…
In 2020, the Department of Ethnic Minorities advises and acts as a contact point to support poor and near-poor families and policy families to build a model for waste classification; collecting rubbish in the right places and maintaining it in a sustainable manner; focus on organizing communication to raise awareness, change behaviors on environmental improvement, waste classification, contributing to the campaign "Build a family with 5 NO-s, 3 CLEAN-s" …