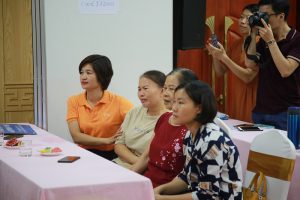 Mrs. Nguyen Thi Hong is among 20 TYM members that were aided from bookselling campaign for fundraising cooperatively held by TYM and Women's Publisher. During the event, Hong sometimes silently wiped her tears. She cried whenever someone mentioned, asked after, or talked about the purpose of "I'm home" bookselling campaign. Her eyes were always so full of sorrow that people attending the event cannot help feeling bad for her.
Resilient through challenges
Mrs. Nguyen Thi Hong has been a member of TYM for 20 years. Therefore, every technical officer of TYM – Soc Son branch is aware of how difficult her family is, as well as how resilient she is. When Hong and her husband first got married, they were not well-off. It was even more and more taxing for them when her husband lost his right arm and suffered from other injuries in a labor accident in 1999. Since then, she has taken the role as breadwinner. They have 3 children who are all sent to school. Their eldest daughter, Hong biggest pride and motivation, grew up a fine and healthy woman and is now in college. Their youngest son, 7 years old, is suffering from Thalassemia and has received periodical treatment at National Institute of hematology and blood transfusion since last November. These already show how difficult their life has been. Hong is willing to do anything to afford her children's education, and medicine and treatment for her husband and youngest son. Annually, she borrows from TYM for many purposes including livestock, cultivation, and selling agricultural products at the market to earn money for her children's tuition and medicine. Considered a poor household, Hong's family was offered policy loan from TYM with a favorable interest rate. In addition, Hong also borrowed another type of Loan from TYM for economic development. Every day she gets up early for work, from selling at the market to working as wage earner, any job to make ends meet. Because of his poor health, her husband stays home to take care of their children, and helps her with house chores. Despite all the difficulty she is facing, Hong believes that as long as she works hard and raises her children well, everything will soon pay off and life will become easier when they grow up.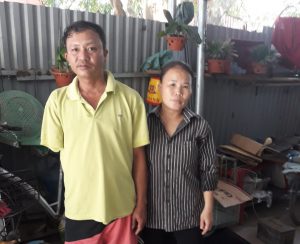 I was really touched to receive aids with sincerity from people, especially from TYM. They have supported my family greatly during my years as TYM member.
 Never give up
However, life continues to challenge them when Hong's second daughter was found suffering from hemangioma and had to have surgery in 2019. In that very same year, Hong was diagnosed with breast tumors, thyroid tumors, cervical tumors and possibly needed surgery. In November 2019, TYM provided free check-up for its members in their local. Hong was excited as she had been too busy to take care of her health properly. However, receiving the result paper, she was stunned and lost for words. Since then, her mental and physical well-being has deteriorated. Knowing that she is the breadwinner of the family and her children's future relied on her, she tried to overcome the situation. She borrowed loans to buy a pick-up truck for the disabled so that her husband could go to work and make money. However, coronavirus pandemic at the beginning of 2020 that led to a lockdown made it impossible for her to sell at the market. Her husband was also affected as he hardly had any customer. It added up to their difficult situation, making their income more and more precarious. Hong and her husband still encourage each other day by day to be optimistic and a firm prop to their children.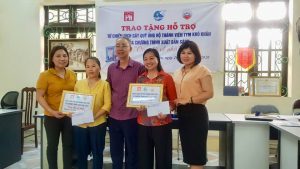 Mrs. Nguyen Thi Hong is a member of TYM center no.17 – Soc Son Branch, Ha Noi. She was among 20 TYM members aided by the profits from the bookselling campaign for fund-raising cooperatively held by TYM and Women's Publisher. Accordingly, TYM handed her 3.343.500 VND on June 26 2020.
As she was one of TYM members with the most difficult situation, TYM has facilitated her and provided her with free medical check-up, TYM scholarship – "Creating wings for your dream" for her daughter, gifts on Tet Holiday, and 10 kilograms of rice during coronavirus pandemic.
Hong's family is still in difficulty and needs support from the community. All kinds of donation please send to:
Mrs. Nguyen Thi Hong
Address: Duoc Thuong hamlet, Tien Duoc commune, Soc Son province, Ha Noi
Tel: 0382195586
Hong's daughter account number: 21510002846889
Account name: Nguyen Ngoc Anh
Bank for Investment and Development of Vietnam (BIDV) – Hoang Quoc Viet Branch, Cau Giay, Hanoi