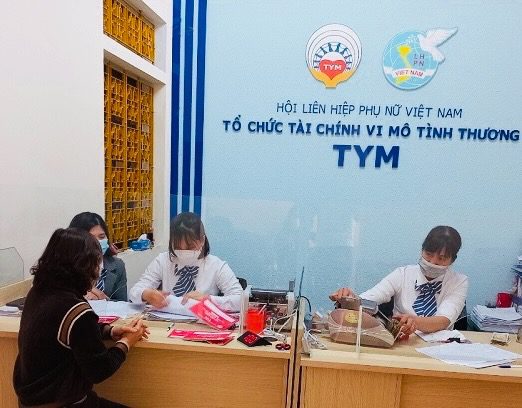 2021 is the second year of the Covid-19 pandemic. Under this context, vulnerable groups seem mostly affected. Understanding the difficulties of its members, i.e. poor and low-income women, TYM has launched a specialized loan product with a variety of preferential conditions to support members affected by the pandemic. With this product, members are provided with necessary funds for economic development and the family's needs in difficult periods.
In the operational areas of TYM – Nam Dinh city branch, members of Cua Nam ward, Nam Dinh city were those firstly and greatly affected by Covid-19 at the end of 2021. Local women mostly engaged in such freelance works as transporting, loading and unloading of goods by hand, and small trading, so it was difficult for them to access capital from banks. In November 2021, there were up to 30 positive cases of TYM members in this areas, being isolated for 3 consecutive weeks. They were supported in buying foods by center leaders. In addition, TYM members may access the specialized loan with preferential interest rate to overcome difficulties caused by the pandemic. Being provided with additional capital for the family's needs, many women felt very touched and expressed their thanks to TYM.
Accessing this preferential loan, Ms. Tran Thi Nga, TYM member at center 36, confided: "Covid-19 has pushed our family into a very difficult situation. Our children's works become unstably. I am myself getting old and my legs are hurting so that I cannot walk as much as before. I am very happy to be trusted by TYM and offered with necessary fund to run a food shop at home. With that I have time to take care of my grandchildren and at the same time earn more money for the family. I am very grateful to TYM Nam Dinh branch for supporting my family overcome difficulties and I feel that I am still useful in life."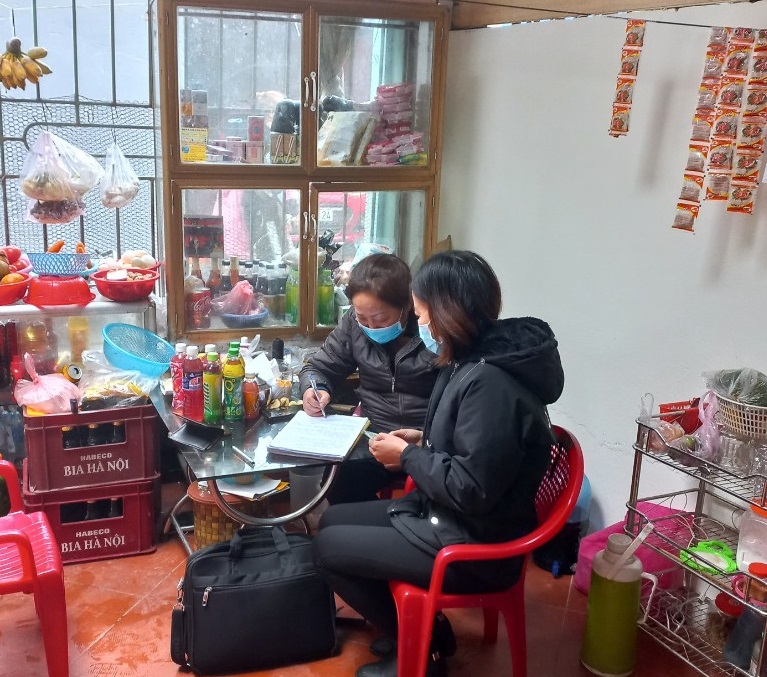 Ms. Tran Thi Thuy Duong, TYM member at center 40, shared: "I was supported with policy loan* from TYM. On the occasion of New Year, TYM also presented me gifts. Due to Covid-19, my family and I have been through 2 quarantines, the first for F1s (contacts of positive cases) and the second for F0s (positive cases). My family relies on income from a clothing store and a small food shop. During the quarantine periods, my family had no income. After that time, I had a chance to access TYM's loan to support members affected by the pandemic. Thanks to that, I have been provided with additional fund to expand my sales, thereby increasing my family's income. I am thankful to TYM for what I have achieved today, and for the warmth of the shared love."
TYM's member Tran Thi Lan, center 36 shared: "I do scrap business. My son works in the South and my daughter is abroad. My two children are also struggling in a variety of difficulties due to Covid-19, so I dare not ask for help. I am myself not in good health  and often have to go to the hospital. I do not have any assets to mortgage, nor do I meet eligible criteria for a bank loan; meanwhile, unofficial lenders normally charge high interest rates. Fortunately, I am trusted by TYM – Nam Dinh City Branch and provided with the post-pandemic recovery loan to continue the scrap business. I will try to use the fund most effectively to ensure my life and bring more values for the society."
Those are the sharing by local women in Cua Nam ward, Nam Dinh city, Nam Dinh province once they are offered with TYM's specialized loan for the post-pandemic recovery. As of the end of March 2022, in Nam Dinh city branch there was 114 members benefiting this loan with a total disbursement of VND 1,660,000,000 – that include 27 members in Cua Nam ward with total disbursed amount of VND 390,000,000. Accompanying poor and low-income women during their upward journey, we always feel our work very meaningful. This is the great motivation for us to move forward with the highest commitment.
* Policy loan is specialized for the poor and disadvantaged clients. The loan is designed with subsidized interest rate to support those groups in business development.
Nguyen Thi Hoai Phuong
Credit Officer, Nam Dinh City Branch, Nam Dinh Province