The husband lost his health due to a work accident, the wife alone managed to raise her husband and three children to attend school. "Creating wings for your dreams" – a scholarship from TYM has helped mothers raise their children's dream of going to school.
In an old house, in the middle of the house there is a mat, a tray of rice with a large aluminum pot for vegetable soup and a small plate of salted dried fish. The working woman in her 40s and 2 children sat down to eat a quick meal to continue working in the afternoon. On the bed, a thin man with lifeless eyes stared at a distant place. Next to it, a daughter holds a large bowl of rice, scoops it up and feeds it spoon by spoon to her father. That is the family of Ms. Hoang Thi Nhuan, a member of TYM Dien Chau Branch, in hamlet 1, Dien Cat commune, Dien Chau district, Nghe An province. The daughter feeding her father is Dang Thi Ly, a female student who received the TYM's scholarship "Creating wings for your dreams"* during 3 years of high school and is now a first-year student at the Department of Chemistry, University School of Natural Sciences – Vietnam National University, Hanoi.
Raising three children
After getting married in 2003, Mr. Long and Ms. Nhuan built a small house on his parents' land. The cozy house became a happy home when three beautiful children were born. Every day he went to work as a builder, she worked in the fields and took care of the children. Life in the countryside was not rich, but trying to save money every day is enough for the children to grow up with many hopes.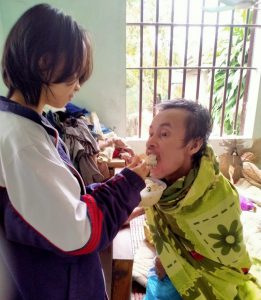 Disasters struck the small house one day. When Mr. Long was working as a builder, he fell from the scaffolding. Initially, when the accident happened, he was only slightly bruised. But the next morning he didn't wake up as usual. Thinking her husband was tired, Nhuan reminded her children to let their father rest to regain strength. When she went to bed to wake him up for breakfast, she panicked when she looked into his lost eyes.
She quickly called an ambulance to take him to the emergency room. The doctor said that after he fell, a blood vessel in his brain was cut and that caused a stroke. From there, the series of days of treatment for him began. Borrowing, asking for help from other places, she brought money with her husband to the hospital for treatment. At that time, there were 03 small children and her 80 year old mother-in-law.
Every day, Ly, the oldest daughter, cooked rice and then went to the garden to pick up some vegetables to cook for her siblings and grandmother. Relatives and neighbors stopped by to give them some eggs and some dried fish, then they could improve their meals.
Nhuan said she knew her mother-in-law and children were suffering at home, but her mind at that time was just trying to cure her husband with the hope that he could recover. However, his condition did not improve, even worsened day by day. Finally, after 3 years of treatment, he was discharged from the hospital with a thin body, lost his memory and couldn't even take care of himself.
Two years later, her mother-in-law, who was already old and weak, and the shock of her son's accident, became seriously ill and did not survive. Disasters continued to fall on the family, weighing heavily on the woman's shoulders, making Nhuan think she could not stand. But loving her sick husband, loving her children of school age, she struggled again.
Every morning, she woke up early to prepare meals and for her children, then took her hat to the construction site to work as an assistant. Loading and unloading, mixing mortar, and concrete crews was an arduous job, but she has no other choice. She just wanted to be healthy so that she doesn't have to miss a day, and at the end of the month, she got paid to take care of her husband and children. Hard work but meager income of VND 200,000 per day is not enough for a family of 5, in which one is sick and 3 children are going to school.
Poor students study well
The year her father had an accident, Dang Thi Ly, a 6th grader, soon had to shoulder the burden of taking care of her and other 2 siblings.
Belonging to poor households, children can go to school for free, but they still have to pay for books, paper, uniforms and many other expenses. Many times when it was difficult, she thought she couldn't hold on any longer. Nhuan intended to tell her eldest daughter to drop out of school. But looking at her pre-teen girl who still studied hard every night, she couldn't bear to. The next day, after work, she went to the village to borrow money temporarily from an acquaintance. Understanding her mother's hardship, her children tried their best to study and got good results. Dang Thi Ly has been a good student for many years.
Sometimes when I saw my mother working hard, I wanted to quit school to help her more. But if I quit school, I could only help her in short term. If I tried to study well, I could graduate from university. When I have TYM scholarship, I won't have to worry about the cost of books anymore..
Dang Thi Ly, a female student received a scholarship from TYM for 3 consecutive years
Human strength is also limited, in the midst of thinking that the most difficult thing for her eldest daughter was to leave school, a miracle happened to the mother and daughters. Having been a member of TYM for 5 years, there were times when Ms. Nhuan had to rely on loans from TYM to maintain her family life.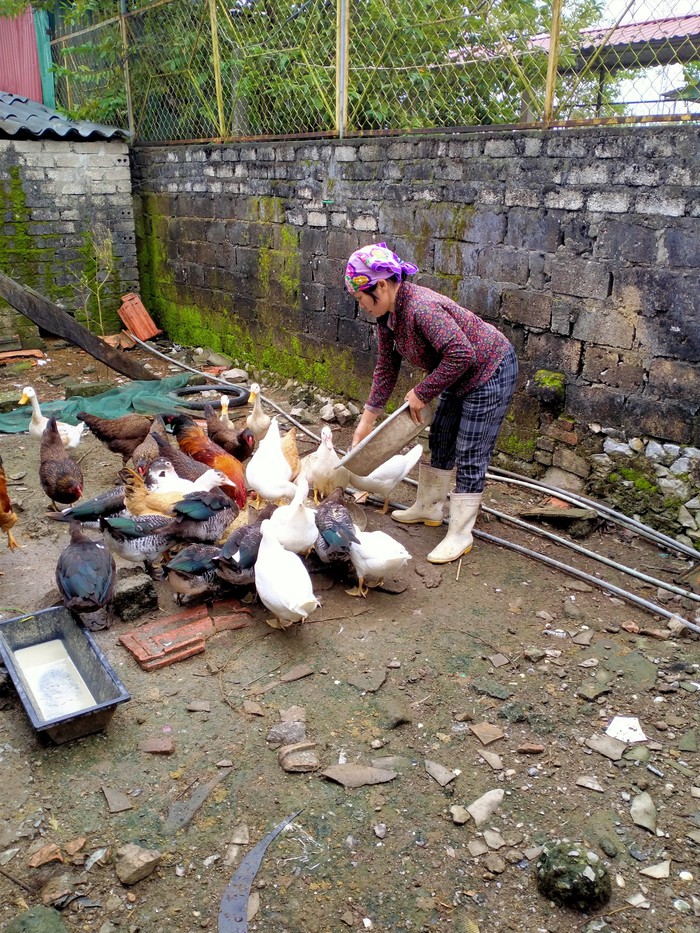 KWhen understanding her difficult situation, TYM Dien Chau branch made a proposal to award a scholarship to her daughter Dang Thi Ly.
A scholarship from TYM of VND 2 million per year for three years of high school has helped her to alleviate some of her worries about the costs of books and stationeries for Ly. Thanks to that, Ly graduated from high school and entered university.
The scholarship program "Creating wings for your dreams" is one of the community activities carried out annually by TYM. The program aims to recognize the good academic achievements of the children of TYM members, especially from disadvantaged families, to help support their dreams of going to school. To date, about 2,000 children of poor and difficult members have received this support to help them overcome their circumstances and continue their studies.