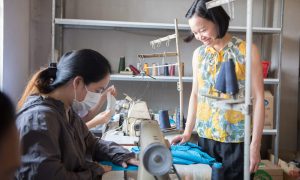 Job creation loan is a loan of up to VND 100 million which has been widely deployed by TYM in 12 provinces/cities where TYM operates.
From September 20, 2021, TYM has started to deploy loan products to create jobs in 12 provinces/cities where TYM operates. TYM deploys this loan for the purpose of supporting members to develop and expand production and business activities of enterprises and business households, creating job opportunities for local people, especially in the context of many opportunities. Businesses and employees are severely affected by the Covid-19 epidemic.
Job creation loans are aimed at women who have production and business activities and employ at least 3 outsourced workers with valid labor contracts. The loan amount applied is from VND 51-100 million with a loan term of 15-100 weeks, the repayment term is weekly or every 4 weeks. Loan purposes: Investment in the fields of agriculture, forestry, fishery, industry development, processing, product consumption, business, trading and services to increase income and improve family life.
Like most TYM loan products, this loan product requires no collateral. Some cases prioritized for approval are: Projects employing women with disabilities, women infected with HIV/AIDS or affected by HIV/AIDS, women with wages, women from poor and near poor households. poor; Business households participating in the national program, one product per commune (OCOP) or practicing agricultural production according to VietGAP standards/regulations, having registered as a household business or being a business owner; Production and business establishments employ many workers.
Thus, with loan for job creation, TYM hopes to better meet the needs of women in terms of loans and especially through the development of these projects will create more jobs for women and local people.
In addition to MSE loans (applied in some localities), job creation loan can be considered as the first loan product of TYM with a loan amount of up to VND 100 million and is applied in all localities. With this loan, TYM targets a group of customers with high capital needs, customers after many years of joining TYM. Job creation loans not only retain the advantages of other capital such as no collateral requirements, simple and convenient procedures, but also have more flexible policies on loan terms compared to other loan products.
Up to now, TYM has 8 loan products for women including:
Micro-loan group (loans less VND 50 million)
– Policy loan
– Loan for near-poor households
– Loan for disaster risk recovery
– Loan for economic development
– Multi-purpose loan
– Construction loan (housing loan)
Other loan groups (loan amount from VND 51 million to VND 100 million):
– Loan for job creation
– Investment loan/MSE loan (currently deployed at branches of Vinh Phuc, Hung Yen, Hai Duong, Y Yen)