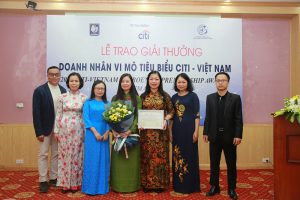 CMA is a global annual award sponsored by Citi Fund – Citi Foundation of Citigroup to recognize microfinance clients and institutions for making outstanding contributions to the development of microfinance industry and poverty reduction in Vietnam. The program has been jointly implemented by the Vietnam Microfinance Working Group (VMFWG), Citi Foundation, Vietnam Association of Small and Medium Enterprises (VINASME), with the support of the State Bank of Vietnam, since 2007.
Earlier, in November 2020, two members of TYM recognized as outstanding Micro Entrepreneurs of Citi – Vietnam 2019, namely Ms. Dau Thi Trung (Nghe An) and Ms. Hoang Thi Van (Thanh Hoa).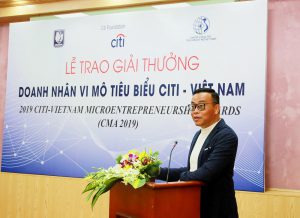 Mr. Bui Quang Huy – Representative of Citi Foundation said: "Microfinance support is one of the top priorities of the Citi's strategy and community programs, globally and in Vietnam. We recognize that microfinance activities in Vietnam have brought real opportunities for the poor to increase their income, improve living conditions, create jobs for the community, and become more confident in life, thereby contributing to local socio-economic development. We believe that microfinance is one of the most effective channels to invest in the poor that bring out important social impacts".
The CMA Program is an initiative of the Citi Foundation which is organized in over 30 countries. In Vietnam, this is the 13th consecutive year of the CMA Program. It has proven to be one of the most prestigious programs to recognize the achievements of professional microfinance institutions, credit officers and microfinance clients in the country.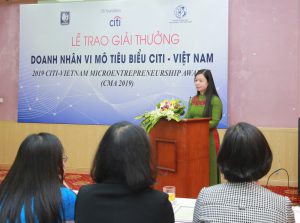 Ms. Nguyen Thi Thu Hien – TYM General Director – representative of the winner shared: "Participating in the Award, TYM has chance to share its experience with other microfinance organizations and programs to together building a strong microfinance industry. We also believe that through this Award, microfinance organizations and programs have opportunity to demonstrate their impact on beneficiaries, to attract the attention of the community and authorities, thereby mobilizing more resources in society for microfinance beneficiaries, and further contributing to the development of financial inclusion in Vietnam".
Thus, since the first year when the CMA has been organized in Vietnam in 2007, TYM has been honored 12 times; in which, as the outstanding microfinance institution for 8 years (in 2016; from 2007 to 2013), as the outstanding microfinance institution with pro-poor focus in 2014, as the outstanding microfinance institution with client protection principles in 2017, and as the outstanding microfinance institution for effective and sustainable operation in 2018. Under the microfinance clients category, 93 TYM members won the award "Outstanding microfinance client".
According to the Banking Times