Member: Quach Thi Huong
Age: 44
Living: Kim Đong, Hung Yen province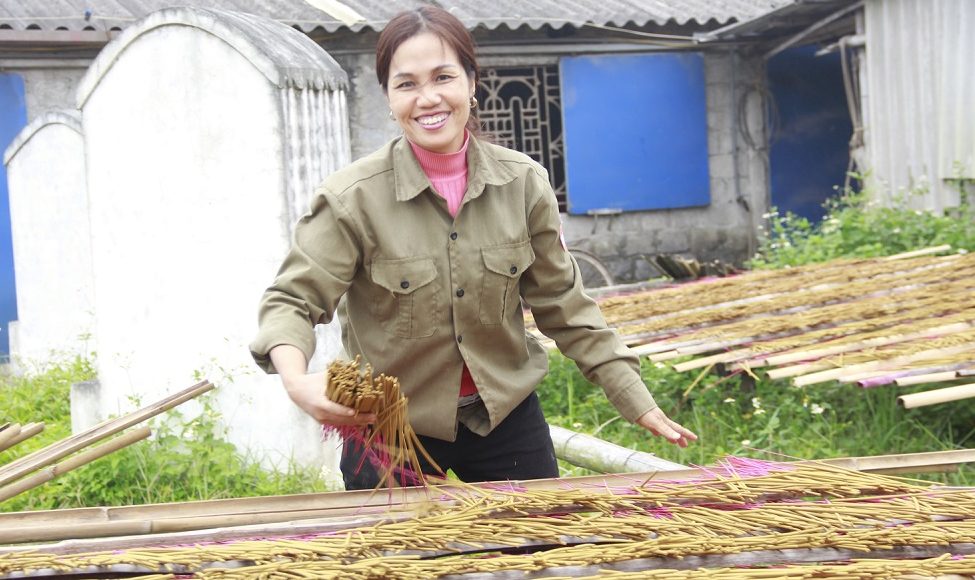 In an interview on the National Assembly TV on the occasion of the Ky Hoi Lunar New Year – 2 months after receiving the CMA 2018 Award, Quach Thi Huong smiled at the camera lens: "The whole family was very excited when I received this prestigious award. We have a very nice Tet holiday at home this year. A big Tet for Ms. Huong meant much of her effort has been recognized. Ms. Huong went through many years of hardship, but she constantly worked and learned to accumulate experience so she can build herself a successful career today.
"The whole family was very excited when I received this prestigious award. We have a very nice Tet holiday at home this year".
As we visited Huong on a cloudy and rainy day, she had time chat with us. After 17 years of working with her profession, Duc Huong incense making workshop has now become one of the biggest incense producers in Hiep Cuong commune. Ms. Huong owns 4 incense production and packaging workshop and 1 warehouse. A special feature of her incense workshop is that she always prioritizes hiring female workers in the locality, especially those in difficult circumstances. The current workshop has created jobs for 30 regular working women and 20 seasonal workers. In the rainy days like today when incense cannot be dried, the workshop still has nearly 20 employees. It can be said that now is the busiest time of the year because people use much incense for Tet holiday. Customers from all over the place want to order incense, but Ms. Huong does not have enough incense to sell. In 2018, the profit of the workshop was up to 1.3 billion VND, nearly doubled compared to 2017. Her life is getting better and better, her family's economy is developing so her children can go to good schools.
If you meet Ms. Huong for the first time, many people probably don't think she is a businesswoman with such a large scale workshop. She still wears an old moss green working coat, and she does not mind any job tasks like making incense sticks and packing. I recall the day I met her at the typical micro-entrepreneurship awards ceremony not so long ago, the simple woman did wear makeups in simple lotus pink traditional Vietnamese long dress but was very outstanding because of the bright smiling face. In her life, she always exudes a respectable beauty.

"Starting a business when something is missing, there is no one"
Ms. Huong was born and raised in the countryside in Kim Dong district, Hung Yen province. Right from the beginning of the 8th grade, because of her family's difficult circumstances, Huong had to quit school to go to work for her family. That was when she became attached to the profession of making incense – one of the traditional occupations of Hung Yen's land. However, a big family mostly depended on the low wage of laborer and income form a few acres of land; the poor family has low income. For 10 consecutive years, Huong has only worked as a hired labor in the factory, but she has not been able to open a workshop. Until 2000, when she had a bit of capital and learned experience in her years of working as a hired worker, Huong decided to open her own incense making workshop. Ms. Huong was the first person in Dong Luong village to open a factory. For Huong, "making incense" was the first job to help her and her family overcome the most difficult days, which is also the job making her a micro-entrepreneur today. The first days of starting a business for Ms. Huong were difficult. Although she was skilled and had worked in this field for a long time, she admitted, "At that time everything was missing, we didn't have anything." She lacks the skills to manage a workshop from input to output, lack of machinery, lack of human resource, lack of inputs, output, lack of confidence and most important lack of money. After opening a workshop for a period of time, the couple still struggled with their worries. At that time, TYM started to operate in the village. She still remembers the memories of nearly 20 years ago, when TYM staff visited her family and introduced her about TYM. That was when she started joining TYM and borrowed 1 million VND. She shared that "Although the amount of capital we need to borrow is not much, the procedures for borrowing from banks are quite complicated so the money without collateral from TYM has helped me and my family. TYM trusted and gave me the opportunity to start my incense making business at home.
She bought machines to produce incense at home. The amount of loan she borrowed from TYM has been increasing year by year, and the loan repayment divided into equal installment to minimize the debt repayment burden helped her partially solve but the difficulties and continue to pursue her career. TYM talked about the CMA award and especially when witnessing many other TYM members of the same branch who were supported by TYM and won the award, she was very much looking forward to receiving this honor someday. In 2017, after participating in the training course "Improving management capacity for female entrepreneurs" organized by TYM for "mature" TYM members, meeting and sharing experiences with peers, she is more motivated to try and strive to become a typical micro-entrepreneur. And finally, by 2018, her dream became true: She was one of the 30 typical micro-entrepreneurs under CMA 2018.
"I will stay with TYM until the end when TYM leaves, I will take a break"
For nearly 20 years, Huong has been with TYM and started her business. That was almost 20 years of TYM accompanying her since she was still miserable until her success today. The loan amount of VND 1 million in the past she has now raised to VND 50 million (the maximum amount of microloan that TYM provides). VND 50 million certainly now for the scale of Ms. Huong's incense making workshop is not a big amount but it is still the most frequent, stable and convenient source of capital that she can access. She still insists that "I will stay with TYM until the end when TYM leaves, I will take a break."