On April 12, 2021, TYM – Vinh Phuc branch organized a tour for TYM members in the branch to learn from the typical model in economic development and the model of waste classification of other TYM members in Yen Lac (Vinh Phuc) and Que Vo (Bac Ninh).
The tour aimed to help women have the opportunity to contact, learn experiences and knowledge from successful models to develop the family economy, protect the environment and improve the quality of life. Joining the delegation were Mr. Vu Thi Thu Ha – Vice President of Women's Union of Vinh Phuc province and leaders of Women's Union in Yen Lac district, Phuc Yen city.
During the tour, the women visited the model of growing Ha black grapes according to VietGAP standards of Ms. Nguyen Thi Nhai's family in Lam Xuyen village, Tam Hong commune, Yen Lac district, a loan member of TYM. With an area of ​​7,000m2, over 2,000 grapes and the current price at the garden is 150,000 VND / kg, her family annually earns about 2.1 billion VND / year.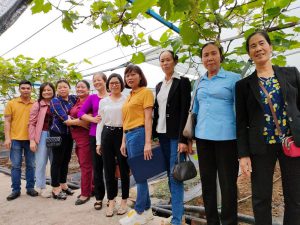 In particular, the delegation had the opportunity to visit and learn about the organic waste treatment model IMO of TYM member Hoang Thi Tan in Viet Van village, Viet Thong commune, Que Vo district, Bac Ninh province.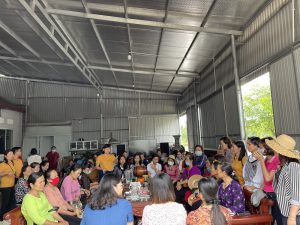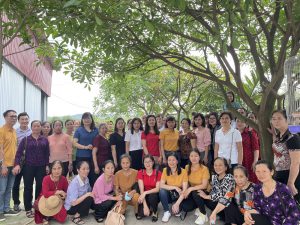 The two models chosen for women to study tour are typical economic models, feasible models of environmental protection, suitable to other TYM members' needs. The study tour program spends a lot of time for owners of 2 models sharing and imparting experiences to other TYM members, so they can learn carefully the implementation process and apply at their homes.
Thuy Anh – Head of Division of Social and Economic Affairs, Vietnam Women's Union, Vinh Phuc province