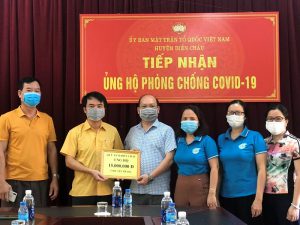 From August 20, 2021, Dien Chau and Yen Thanh are 02 out of 14 localities of Nghe An province implementing social isolation according to Directive 16 of the Prime Minister. TYM – Dien Chau Branch, Nghe An has taken many practical actions to support the locality in the prevention of the Covid-19 epidemic.
Responding to the call of the District Fatherland Front Committee and the District Labor Confederation on "Supporting units with concentrated isolation points for people returning from epidemic areas", TYM – Dien Chau branch has promoted propaganda and implemented measures to prevent and control the Covid-19 epidemic, and at the same time called on trade union members of the branch to support communes to repel the Covid-19 epidemic. Thereby, the branch has created a strong spread, actively contributing to the prevention and control of Covid-19 epidemic in the district.
In the past time, TYM – Dien Chau branch has supported the epidemic prevention and control of 2 districts of Dien Chau, Yen Thanh and communes with TYM activities with a total amount of VND 76,500,000. Local leaders thanked TYM – Dien Chau branch for paying attention and accompanying with the locality.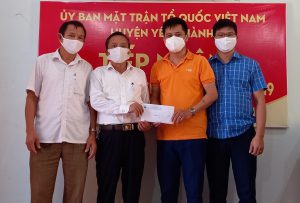 In particular, with the call of the branch union, each branch staff donated 2 days' salary to buy necessities and donate to 5 communes Dien Lam, Dien Doai, Dien Truong, Dien Hoang and Dien Hung which are communes. There are citizens from southern provinces returning to their hometowns and are in quarantine. At the isolation points, TYM – Dien Chau branch donated necessities worth 1 million VND/point. In 03 communes of Dien Van, Dien Thinh and Minh Chau, branch staff worked with the Commune Women's Union to cook rice to support 202 meals for quarantined people with a total amount of VND 6,500,000.
In the spirit of "Joining hands to repel Covid-19", TYM – Dien Chau Branch has closely grasped the situation and taken measures to support and accompany creatively and meaningfully, contributing to local anti-epidemic activities. and beautify the image of TYM in the community.