Member: Do Thi Lanh
Age: 53
Living: Tan Phu Village, Yen Luong Commune, Y Yen District, Nam Dinh province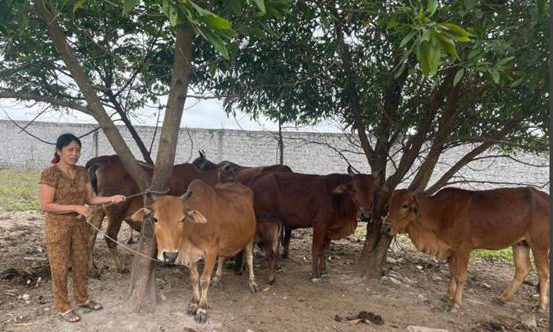 Members running good business by availing TYM's loans
The model of animal husbandry and cultivation is always the direction to improve TYM's members' economy when taking out loans from TYM. One outstanding example is the member Do Thi Lanh, center 36, Tan Phu Village, Yen Luong Commune, Y Yen District, Nam Dinh province, TYM – Y Yen Branch, Transaction Office 01.
In 2002, she availed a loan of VND 10 million to invest in raising pigs and chickens.
In the early days of raising livestock, Mrs. Lanh, did not have much experience so the income from breeding was low. But with her habit of savings and patience, Mrs. Lanh's family was not discouraged, they continued to learn, gradually applied the knowledge of animal husbandry from books and training courses organized by the Vietnam Women's Union and TYM. As Mrs. Lanh borrowed many loans and repaid well, she has just borrowed an additional VND 40 million from TYM to continue her investment in raising livestock. Visiting the model of raising livestock at Ms. Lanh's house, we see Mrs. Lanh is as an energetic woman, daring to think and invest. Currently, her family is raising 8 beef, 2 calves, wild boars and chickens, geese, birds and dogs. The investment of her family on the farm, after deducting expenses, generates income from VND 200 to 220 million each year.
In addition, Mrs. Lanh also grows 3 lotus ponds, each season these ponds generates income from VND 10 to 20 million. Currently, the income of Mrs. Lanh's family is quite stable. In 2022, she built a 200 m2 house and purchased valuable equipment and assets in the family. In addition, Mrs. Lanh also invested for her children to go to school: 1 child is studying at the University of Electricity and the other child is at 12th grade. Her two children are always good at school and obedient. Not only doing good business, Mrs. Lanh is always an exemplary and active member in TYM's activities and in the movements of Vietnam Women's Union as well as the activities of the village.
                                                                       -Ngo Thi Anh, technical officer, TYM – Y Yen Branch-