Member: Hoang Thi Van
Age: 41
Living: Quảng Xương, Thanh Hóa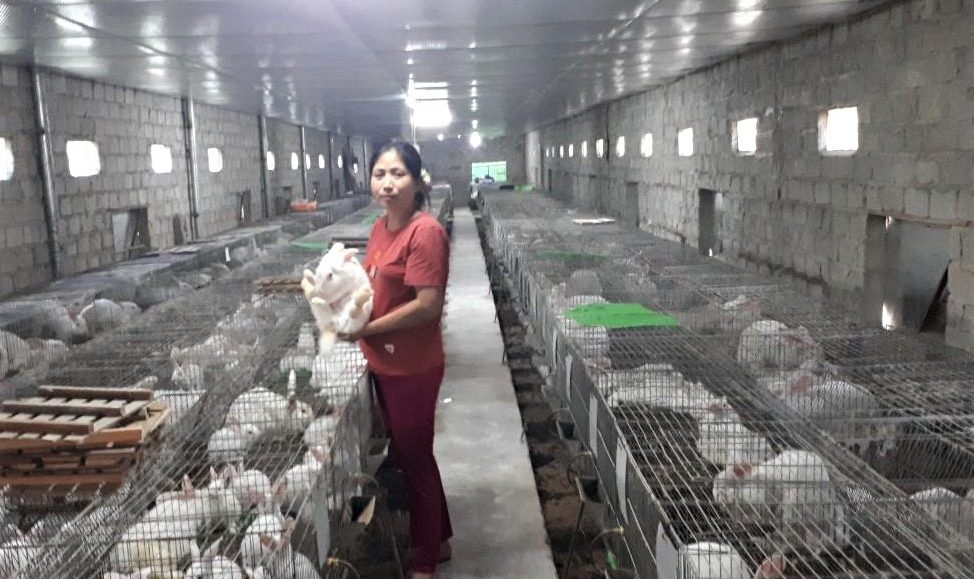 Innovating traditional VAC model – a big change for the development of family economy
The study tour, which was organized by TYM in June 2019 for its members in Thanh Hoa Branch, has opened up a new business direction for many participants. Visiting directly the rabbit farming of Ms. Hoang Thi Van and listening to her economic story, other members have been provided with great motivation to think about and innovate their traditional VAC business model.
Ms. Hoang Thi Van has joined TYM since 2016 and is one of the outstanding members of TYM – Thanh Hoa Branch. Before joining TYM, although she worked hard with her pig raising, her family was still classified as a low-income family. Things have changed since the day she decided to change her business model. After a period of time to self-studying and accumulating experience, in 2017, Van's family was the first one to start a VAC farming model of raising rabbits & wild boars, breeding fish and planting fruit trees in an area of over 2 hectares in Quang Hoa commune, Quang Xuong district, Thanh Hoa province.
Before investing in raising rabbits, Ms. Van learned that most of the local breeding farms focused only on pigs, chickens, pigeons, and fish. However, during recent years, there are many difficulties in raising livestock, including the increasing prices of breeding animals & food, diseases to pigs and chickens, etc. Along with that, traders often press down prices. This makes farming households often suffer from loss; despite the big investment, they even gain nothing, especially when there is an epidemic. Some farm owners are trapped in debt; they must leave their farms uncultivated and employed for others.
Thinking that it is necessary to find out a new business direction, Ms. Van and her husband paid visits to some large rabbit breeding models in neighboring districts and other provinces across the country. She finds the rabbits raising suitable with the current conditions of the family since it requires low initial investment but can create stable monthly income; rabbits are also easy to breed, have quick reproduction circles, and do not easy to suffer from epidemic as pigs and chickens.
"For the sustainable development of the VAC business model,  production wants to develop sustainably and meet the needs of the market, first of all, there must be a clean production direction, ensuring hygiene and safety and environmental protection, the output is stable and constructing. gain consumer confidence "- Ms. Hoang Thi Van – TYM member in Hoa Trinh, Quang Hoa, Quang Xuong and Thanh Hoa communes
When she decided to open a rabbit farm, her family encountered many difficulties and had no other property besides the unused land and 17 million dong in cash. Van mobilized and persuaded the brothers in the house to borrow VND 100 million to build a barn. But when the barn is ready, it is time for you to run out of money, no money to buy breeds and start breeding. The model of raising rabbits at that time was still new in the locality, nowhere dared to lend money to the couple. However, when TYM staff came to the house to appraise the dossier and learn about the family's business model, she did not hesitate to agree to lend her a second round of loan of VND 20 million. This small but timely and stable source of money has enabled her to buy breeds and animal feed. Just like that, in the next loan cycles, she would apply for a higher loan to raise livestock production and invest in renovating and strengthening the breeding facilities.
They choose a site for the farm which is located far away from the residential area, regularly cleans the barn clean, and uses probiotics to treat rabbit dung. When rabbit manure is composted with probiotics, probiotics not only minimize the odor but also increase the humus of manure used as fertilizer to improve soil for green grapefruit and grass planting. This not only protects the environment but also makes the most of the effects of waste, creating additional income for the family.
Breeding rabbits has brought a stable job and income to your family. "On average, each month, my family earns VND 50,000,000 from the sale of meat rabbits and breeding rabbits. Besides, my farm also creates stable jobs for 3 regular workers, who are local people with an average income of 4.5 million / month ", Ms. Van said happily.
Up to now, the farm of your family has 3,500 rabbits with 500 breeding rabbits to provide breeding for small family farms, and 3,000 meat rabbits to many large companies in Ninh Binh and Hanoi, restaurants in districts and provinces. They are also the same supplier for local small farmers. For those who want to learn about models, they are always willing to share their experiences with the desire that rabbit farming will be a new direction not only for her family but also for other farmers' families.