Member: Vũ Thị Huệ
Age: 45
Living: Lam town, Y Yen district, Nam Dinh province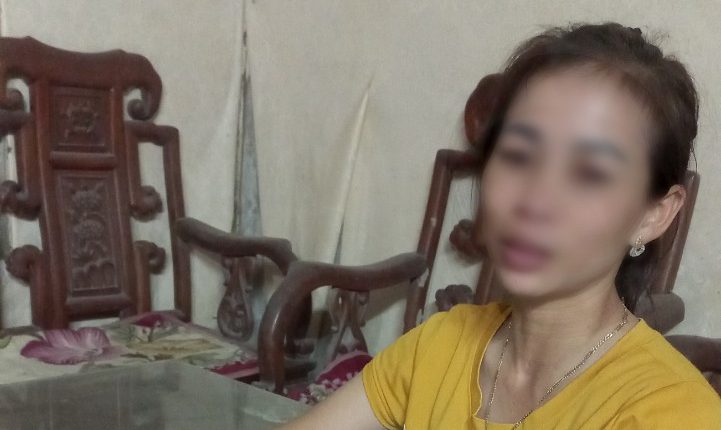 Accompanying the mother "with HIV" to send her child to university
The wife contracted HIV from her husband, then became a single mother raising children to school thanks to the support from Tinh Thuong One-member Limited Liability Microfinance Institution (TYM). Her son graduated from university, but she continues to stay with TYM.
Unfinished happy dream
In 1996, Ms. Vu Thi Hue married Mr. Tran Cong Son from the same village. The young couple lived with their parents-in-law in group 4, Lam town, Y Yen district, Nam Dinh province, with little property but full of hope for the future. At that time, with a carpentry job in hand, Mr. Son was invited by his colleagues to the South to pursuit for a career. Mr. Son asked his wife to explore the new land together. Once Ms. Hue thought of leaving her hometown, Ms. Hue told her husband, "You may go with your friends to do business, I stay at home with my parents waiting for you. Now the train is also convenient, on New Year's holidays, you will see me and parents. After a few years, I have capital to work at home, so I don't have to go far…".
Now, that's what Ms. Hue still regrets: if only that day I had risked going, sometimes the bad things would not have come.
Two years later, Mr. Son returned. Then she and her husband happily welcomed their first son. The house with grandparents and husband and wife now adds the babbling sound of a child. After a while, Mr. Son went back to the South to do business. He followed his colleagues to the whole country to make a living.
In 2002, her husband returned. Parents were old, children were also growing up, he planned to stay at home. They opened a carpentry workshop, hired a few more workers. The work also began to flow.
But then, at his young age, Mr. Son became weaker and weaker. At first, his family thought that because he worked hard, he just needed to rest and recover and then he would get better.
For a while, his health still did not improve. Going to a local doctor, he was introduced to Hanoi for a re-examination. There, test results showed that he was HIV positive. Bad news is like a thunderbolt. The medical staff advised Ms. Hue to also get tested. Her result was also positive.
As her physical and mental broke down together, Ms. Hue's business stalled. The elderly parents, especially the handsome son who is growing up, is a source of motivation to help them try to stand up against illness and difficulties. After 3 years of running for medical treatment for her husband, she really fell into poverty.
"Relying" on TYM to get up and take care of her husband and children
As his health is weak, Ms. Hue's husband can barely do anything. She and her husband discussed and decided to let Ms. Hue learn chiseling (a stage of high-tech carpentry).
She came to learn the profession of Ms. Ninh Thi Hung. The chisel job requires the worker to be skillful and careful. Ordinary people have to study for half a year to start working. She tried to shorten the time of learning to 3 months.
Since then, she has been working at home, taking advantage of day and night to take care of her husband, children and work. Her monthly income of 5-6 million dong is just enough for her to live. With big money like buying medicine for her husband, paying for school for children are big challenges.
In 2004, she became a member of TYM. She was allowed to borrow the first amount of 500,000 VND with a preferential interest rate to buy medicine for her husband.
Not only providing economic support, TYM also encourages spiritually. At first, feeling guilty of being a person with HIV, she closed herself and had little contact with other TYM's members. TYM's staff learned through other members and actively contacted and encouraged her, and at the same time encouraged other members not to discriminate, actively share and encourage Ms. Hue. With time, Ms. Hue removed her guilt and gradually found confidence in the TYM's members and the community.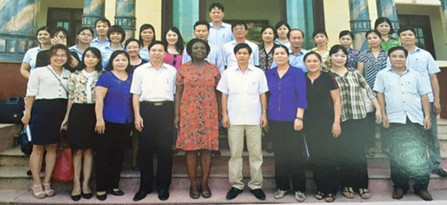 In 2009, her husband collapsed and died, leaving a large debt for her. Then she broke down completely. Her health is weak. She does not have an unstable job. She is always worried "then I don't know what will happen to my mother and child, will my child continue to go to school?". Thinking like that, she loves her child even more.
Fortunately, at that time, TYM staff visited and encouraged her to borrow money to develop the family economy. Up to now, every year, she borrows from 10 to 15 million dong and saves to accumulate more for her family. In addition, she also received advice from TYM staff on how to manage finances and use capital to achieve high efficiency.
Repressing her pain, she still worked hard to raise her children to study. Her son is growing up and the cost of school is getting more and more expensive. At that time, only TYM accompanied her mother and daughter. At every important milestone of mother and daughter, TYM was present. The year her children entered high school, TYM awarded a scholarship of 2 million VND. In the year her children passed the Vietnam Academy of Agriculture, TYM also awarded a scholarship of 4 million VND to support their children in school. Over the years, TYM has continued to accompany her family to support scholarships for her children.
In 2022, her son graduated from university, she said with tears in her eyes: "Without TYM, my son and I would not dare to dream of going to school. My son graduated, but I will continue to be a member of TYM."