Member: Member Tran Thi Nga
Age: 31
Living: Trai village, Nam Cuong commune, Nam Truc district, Nam Dinh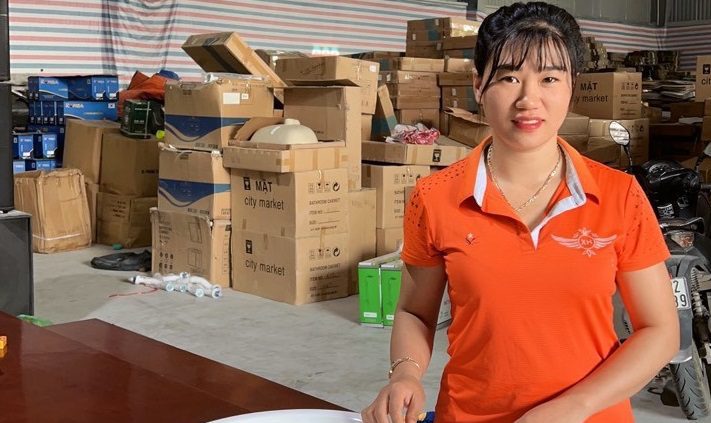 Typical example of an outstanding TYM member starting a business
Today, in the era of integration, reality has proven that women not only perform well their roles in the family but also confidently and determinedly pursue their career passions, seek financial independence and economic self-reliance. The "Women start-up" contest in 2022 launched by the Vietnam Women's Union of Nam Dinh province has 20 typical models honored, including the model "Manufacturing Lavabo stone tables" by Mrs. Tran Thi Nga, center 65, Trai village, Nam Cuong commune, Nam Truc district, Nam Dinh province.
Mrs. Nga was born and raised on a purely rural land in Bai Ha village. Her parents worked in agriculture, she herself got married when she was quite young, so she entered the family life with economic worries. The meager salary of her husband and Mrs. Nga's is not enough to support the family. Mrs. Nga realized that she had to do something to make a breakthrough at work, so she chose a new direction for her career. Stemming from that thought, in 2014 the couple discussed and decided to start the sanitary ware business. With a start-up capital of about 200 million dong, Mrs. Nga did not have any experiences, so she researched and learned. At first, her production facility faced many difficulties in terms of materials, capital as well as design. After a while, Mrs. Nga found a stable output for her products, with financial support from organizations, especially loans from TYM, so in 2018 she expanded the field of artificial stone table production according to the needs and tastes of consumers. From a small factory with about 5 employees, her factory has grown to a large scale, creating regular jobs for 18 workers with an average income of 8 million VND/person/month.
In 2020, Mrs. Nga's business establishment is no longer a production facility, but she officially established a company named Kim Ngan Import-Export Trading Co., Ltd., led by Mrs. Nga. Her products are not only consumed in the province but also in many provinces in the country such as Thai Binh, Quang Ninh, Nghe An, and Thanh Hoa. Mrs. Nga plans to expand more production facilities and consumption areas in the country and abroad.
Mrs. Nga shared: "Since joining TYM until now, I have realized that in addition to having the opportunity to take out loans and deposit savings for economic development, members also benefit from policies that are suitable methods such as quick procedures, repayment of principal and interest are divided in installments, at the end of the loan cycle, the debt is gone. In addition, women also benefited from many other useful community support activities and programs such as health checks for members, scholarships for members' children, provide for masks and plastic baskets for members. Especially through TYM, I came to know the contest "Women entrepreneurship", and was guided by the staff to prepare the application and presentation materials, so I got good results at the contest at the same time introduce my products to everyone."
With 30 years of age, 8 years of career, Mrs. Nga has boldly gone ahead, pioneered a new business and production line in the locality and has had certain successes. She is an example of a TYM's member who dare to think, dare to do and learn. I believe that in the near future, the products of Kim Ngan Company will be present in many provinces and cities throughout the country and further abroad.
Le Thi Le – Technical staff of Nam Truc Branch Office